Are you wondering how to get painless laser hair removal in Toronto?
With IGBeauty Laser & Skin Clinic, the days of painful and unpleasant laser procedures are long in the past! Now, anyone can enjoy long-term hair removal on any part of their bodies, regardless of sex, age, or skin and hair type - completely pain-free.
Traditional laser hair removal methods, such as plucking or waxing, can be time-consuming, painful, and yield only temporary results. Luckily, thanks to state-of-the-art developments in laser technology, laser hair removal provides fast, safe, and effective permanent hair removal solution with only 5 to 7 short treatments.
At IGBeauty, laser hair removal procedures are more comfortable than ever. It is time to throw away the razors and get ready for your new, flawless, hairless self!
How does Painless Laser Hair Removal in Toronto Work?
In order to answer how to get painless laser hair removal in Toronto, it is important to understand how the process of laser hair removal works.
With laser hair removal, the light technology is utilised in order to get rid of unwanted hair from any part of the body, such us underarms, legs, bikini line, and more. The laser produces a highly concentrated beam of light at a specific wavelength that is intended to target the melanin inside of hair cells, as well as the hair's growth center. Melanin is the pigment that gives your hair its colour; when it absorbs the laser impulses, the hair follicle is destroyed, while the surrounding skin remains unharmed.
Is Laser Hair Removal Indeed Painless?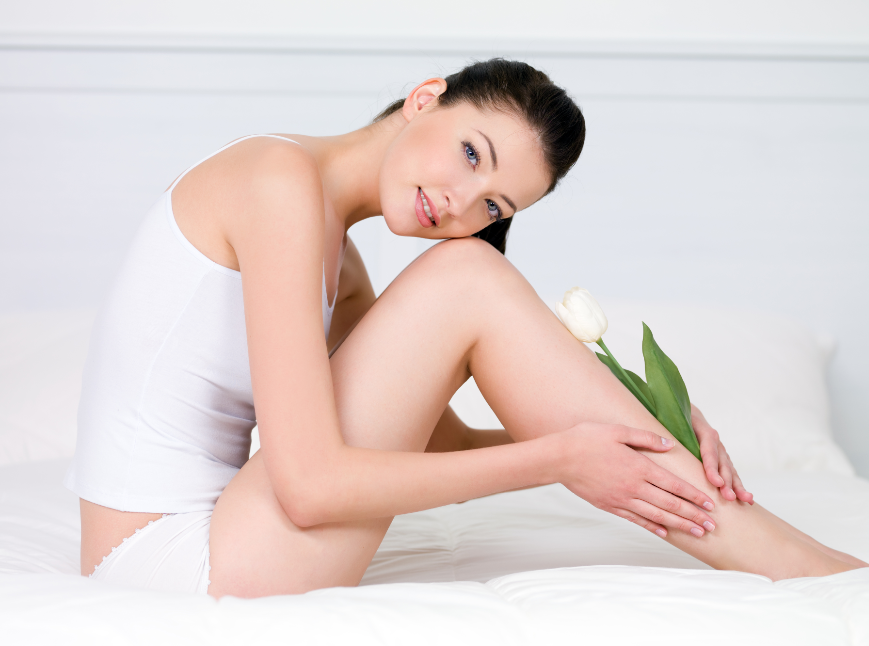 If the laser is used properly by an experienced professional, such as our technicians at IGBeauty, the laser hair removal treatment is safe and completely painless. The laser will emit light at the exact wavelength suitable for your specific hair type, meaning that the surrounding skin tissue will not be damaged.
Are there Any Side Effects?
Any side effects associated with the procedure are due to potential damage to the surrounding skin tissue. However, all of these symptoms are minor and disappear within several days after the treatment. All of the most common symptoms involve skin irritation, such as redness or swelling. Luckily, proper aftercare and numbing creams can be used to minimize these symptoms and ensure a completely painless laser hair removal in Toronto.
Why You Should Choose a Professional Laser Hair Removal Clinic
When searching for painless laser hair removal in Toronto, you should look for a skilled laser technician who has experience in using LightSheer® DUET™ or GentleMax Pro® lasers with Dynamic Cooling Device technology.
At IGBeauty studio, we employ a cooling system that will make each of your laser sessions safe and comfortable by providing cooling "bursts". The sapphire cooling device of the LightSheer® DUET™ hand piece has been proven to be safe and effective for long-term hair removal, - it moves your hair bulbs closer to the upper dermis, where the laser beam is most effective, while protecting the skin's epidermis at the same time. The LightSheer® DUET™ laser also minimizes the skin damage with its contact cooling sapphire tip and longer pulse widths. Furthermore, the vacuum assist technology hand pieces maximize light absorption, while preventing the heat-induced damage to the epidermis.
Overall, when you choose a professional laser hair removal clinic, such as IGBeauty Laser & Skin Clinic, you choose a safe, pain-free laser hair removal experience.
Other Benefits of Laser Hair Removal
When you visit a reputable laser hair removal clinic for painless laser hair removal in Toronto, such as IGBeauty, you can be sure that your laser experience will be safe and painless, alongside with other benefits from the procedure:
Laser hair removal is effective. The greatest benefit of laser hair removal is that IT WORKS. With only 5 to 7 sessions, most patients can achieve long-term hair loss. In case some of the hair does grow back, it can be easily treated with a touch-up session.
Save money. Even though the upfront cost of laser hair removal may seem higher than the costs associated with shaving or waxing, laser hair removal actually results in long term money savings. Just think about how much money you have to spend on razors, shaving creams, and waxing procedures, over and over again, and what it adds up to over a lifetime. With laser hair removal, you will forget about unwanted hair for good!
Save time. Laser hair removal sessions itself are quick and efficient, with no downtime after the treatment. This means that you can continue with your day immediately. In addition, just imagine how much time you will save when you won't have to regularly shave anymore.
You can shave between sessions. Unlike with waxing, when you opt for laser hair removal, you don't have to let your hair grow out between sessions. You can continue shaving the areas being treated, and are actually encouraged to shave right before your appointment.
No more ingrown hairs. Regular waxing or shaving can lead to painful and annoying ingrown hairs. Luckily, laser hair removal at IGBeauty actually reduces the number of ingrown hair. Furthermore, it presents a great solution for those with sensitive skin who experience irritation after shaving or waxing.
Contact IGBeauty for Safe, Effective, and Painless Laser Hair Removal
Modern technologies utilised for laser hair removal treatments allow for effective long-term hair removal without any pain whatsoever. Of course, to achieve maximum benefits, you have to choose a skilled and experienced laser technician with the right training and equipment.
At IGBeauty Laser & Skin Clinic, all of our laser technicians are real professionals in the field, and we only use the best state-of-the art technology. We value each of our clients and do our best to ensure their comfort during the entire laser hair removal process. Our technicians are friendly, kind, and are happy to answer any questions or concerns that you may have about painless laser hair removal in Toronto.
At IGBeauty Clinic, we believe that honesty is the best policy, and we will guide you through the entire procedure, making sure that you understand all the details. Visit https://www.igbeauty.com/service/laser-hair-removal to learn more about the procedure or contact us today to book a free consultation.