Many women will shave or wax their armpits hundreds, if not thousands, of times throughout their lives. It's time to abandon this tedious task and throw away the razors with underarm laser hair removal in Toronto. With professional laser hair removal services from IGBeauty Laser & Skin Clinic, you can have the eternally smooth underarms of a Hollywood star – with no pain, no downtime, and at an affordable price.
Why You Should Try Underarm Laser Hair Removal in Toronto
Years of shaving underarm hair again and again can make the sensitive skin in the armpit area rough and irritated. Problems such razor bumps and ingrown hairs can be not only uncomfortable, but even result in permanent scarring. There is nothing worse than putting on your favourite dress just to spend the entire night awkwardly keeping your arms down to avoid exposing the underarm areas.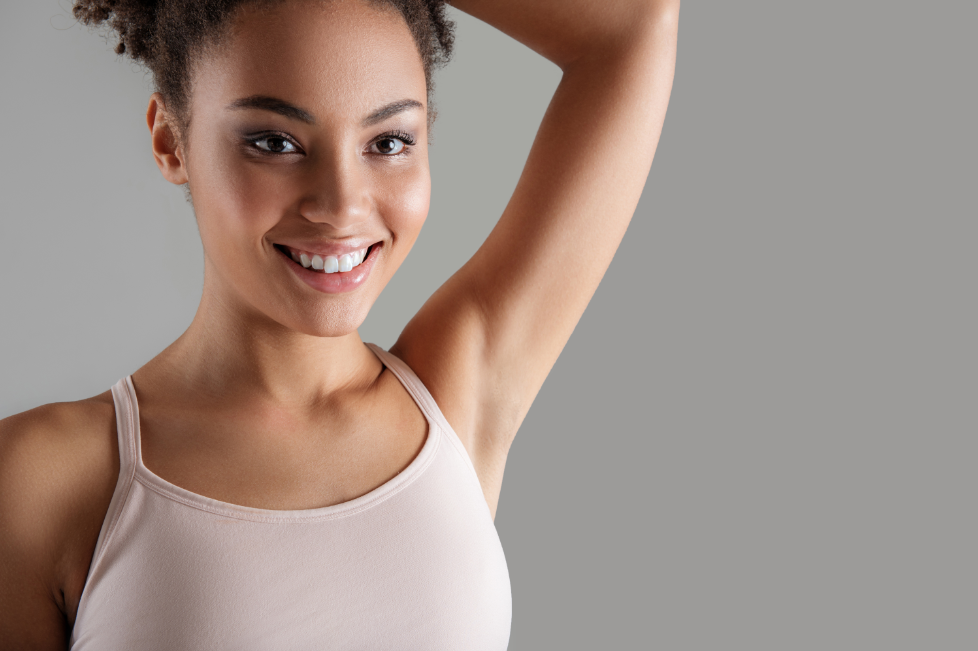 The good news is that with underarm laser hair removal in Toronto, the protective skin in the armpit areas is not disturbed. Instead of irritating the skin to temporarily remove hair above the surface of the skin, the laser permanently eliminates hair roots by targeting melanin pigment inside hair follicles. This keeps your skin intact and undamaged.
It is important to understand that the laser is only able to target hair that is in the active growth phase. Therefore, touch-up treatments are required to effectively remove all of the hair in the area being treated. After an initial session, you are likely to see up to 50% reduction in hair growth. After the entire laser hair removal course is completed, you will be happy to notice that 90% to 100% of your hair is gone for good! Any remaining hairs will be much finer and lighter in colour.
To achieve optimal results, laser hair removal experts at IGBeauty typically recommend anywhere between 5 and 7 treatments, 4 to 8 weeks apart, depending on your skin and hair type.
What Makes Laser Hair Removal Ideal for Underarms?
Laser hair removal presents a perfect solution for unwanted hair on any part of the body. However, it has shown to be especially effective for underarm hair. There are several reasons that make underarm laser hair removal in Toronto an ideal solution for all armpit hair problems:
Always ready to go. No woman wants to be caught with hairy underarms. No woman wants to say "no" to a favourite dress or a tank top because she forgot to shave… With laser hair removal, you will be T-shirt-ready at all times, - no more razors, ingrown hairs, razor bumps, and long-sleeves!
Fast and comfortable treatments. The times when beauty was associated with pain are long gone. With the latest laser hair removal technology, you don't have to suffer to look your best. Laser hair removal is much less painful compared to waxing and has next to no down time. Furthermore, underarm laser hair removal sessions can easily fit in your busy daily routine - a single treatment for underarm areas takes less than 10 minutes.
Forget about razor burns and irritation. With underarm laser hair removal in Toronto, you will never have to shave again. In just a few laser sessions, you will receive permanently soft and smooth skin in the underarm area. Not only does the laser effectively prevents future hair growth, but it also has a few pleasant "side effects". As such, many clients notice improvement with ingrown hairs and an overall rejuvenated appearance of the skin.
Is Laser Hair Removal Safe for Underarm Areas?
As with any other body area, laser hair removal is completely safe for your underarms. Not only it is gentle on your skin, but there is also barely any pain during or following the procedure. Underarms are a small area, and the treatment itself takes less than 10 minutes.
While the laser hair removal treatment is safe and effective, it is normal to experience some redness, swelling, or a "sunburn" feeling in the treated area. These symptoms should fade away within a few days.
Battle Pesky Body Hair with LightSheer® Duet™ and GentleMax Pro® Laser Systems
At IGBeauty Skin & Laser Clinic, we specialize in underarm laser hair removal in Toronto. Our LightSheer® Duet™ and GentleMax Pro® laser systems can be adjusted to treat any skin phototype and hair colour, as well as any part of the body.
The GentleMax Pro® combines a 1064nm Nd:Yag laser for darker skin types and a 755nm Alexandrite laser to treat lighter skin tones. The laser includes a Dynamic Cooling Device, which utilises liquid cryogen to keep the client comfortable. Short pulse duration and a variety of spot sizes make the GentleMax Pro® laser effective, yet safe, on a broad range of skin types.
The Lumenis LightSheer® Duet™ utilises an 805nm Diode laser and has customizable control options that allow adjusting the setting depending on the skin phototype and hair colour. Additional cooling technologies help cool down the skin to relieve any discomfort associated with the procedure.
All of the laser technologies used at IGBeauty Laser & Skin Clinic are approved by the FDA and Health Canada and are proven to be a simple, effective, and, most importantly, a safe solution to unwanted body hair.
Contact IGBeauty Laser & Skin Clinic for Underarm Laser Hair Removal Services
At IGBeauty, we know that our clients want to feel confident and beautiful without having to deal with pesky armpit hair, wax strips, and razor burns. Our team of skilled and experienced laser technicians will develop a personalized treatment plan depending on your hair and skin colour, and guide you through the entire process, step by step.
Get ready to put you wax strips and razors away and experience flawless, smooth skin. Call us at 416-484-4884 or visit https://www.igbeauty.com/service/laser-hair-removal for more information on underarm laser hair removal in Toronto.