As we age, patches of our skin can become darker. When our pigmentation (skin colour) is exposed to the sun and the effects of aging, our skin cells become damaged and melanin production is halted. Melanin is the material in our bodies that produces skin colour and when it is unhealthy, it produces spots on the face, arms and hands. Skin discolouration comes in many forms from liver spots to sun damage but there is hope. IPL pigmentation treatment is available at IGBeauty laser clinic.
IPL pigmentation treatment for skin discolouration
IPL stands for Intense Pulsed Light. Using IPL laser technology, sometimes called photorejuvenation or photofacial, the skin is resurfaced and rejuvenated to remove blemishes, dart spots and stimulate the production of collagen. The lasers used in this treatment are Health Canada and FDA approved. Furthermore, they are designed to release small pulses of light only on the area being targeted so that the rest of your skin remains as is. Your skin will regain any elasticity it has lost and you'll notice a smoother, even skin tone after your pigmentation treatment is complete.
What types of pigmentation issues does IPL treat?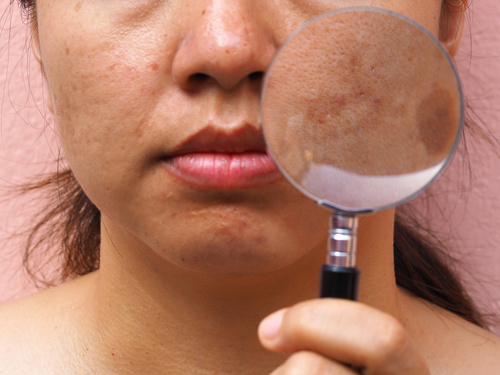 IPL pigmentation treatment is perfect for men and women alike because it targets only the areas that need resurfacing. IPL is ideal for correcting acne scars, rosacea, sun and aging spots, broken capillaries, red blood vessel clusters, and the redness and hyperpigmentation associated with acne. In addition, IPL can also work on other skin discolourations like freckles and birthmarks.
Treatment information and follow-up
The amount of IPL pigmentation treatment varies depending on the severity of your dark spots. The treatments themselves last anywhere from 40-60 minutes and are non-invasive, meaning there is no surgery or incisions involved. For those with many sun damaged areas, it can take anywhere between 3-5 treatments. You will also need to wait 4-6 weeks between treatments. Moreover, we can recommend a skincare regiment to pair with your IPL treatment. For example, we offer jet peels, chemical peels, deep cleansing facials and micro-needling to fully remove the signs of aging from the skin and restore your natural beauty.
Why it's important to stay out of the sun after receiving IPL photorejuvenation
Although there is no recovery time necessary following IPL pigmentation treatment, you will need to stay out of the sun. Furthermore, you will need to wear a broad-spectrum sunscreen with SPF 30 or more to protect your skin. The sun's damaging rays can hamper with the body's natural healing process and halt the production of collagen and new skin cells. It's important that you stay away from tanning beds and direct sunlight after your IPL treatment to give your skin a chance to restore itself.
Overexposure to the sun can cause hyperpigmentaiton
When our skin ages or we expose it to the harsh rays of the sun, the melanin in our bodies can work overtime to try and protect us. However, when melanin (the compound responsible for giving our skin its colour) begins to overproduce, hyperpigmentation can occur. Luckily, there is an effective hyperpigmentation laser treatment available that can correct this skin issue.
What does hyperpigmentation look like?
Hyperpigmentation appears as flat, darkened patches of skin that look light brown or black. The size of these darkened patches can vary and they can appear on your face, hands and arms. Furthermore, hyperpigmentation can occur as the result of pregnancy due to the hormonal imbalances in the body. Hyperpigmentation is not dangerous but can increase your risk of developing certain forms of skin cancer.
Hyperpigmentation laser treatment
At IGBeauty we use Lumenis ResurFX and IPL (Intense Pulsed Light) laser technology to treat hyperpigmentation. This safe, Health Canada and FDA approved hyperpigmentation laser treatment allows for the improvement of the skin's colouration by reducing the look of dark spots without destroying healthy skin cells. ResurFX with IPL uses a non-ablative fractional laser which means that it is small enough to target only the areas that need treatment and does not disrupt the areas that don't. After your laser treatment you will appear younger and be left with an even skin tone.
What does the ResurFX treatment entail?
Treating hyperpigmentation with ResurFX is a quick and relatively painless procedure. The laser is passed once over the area of the skin that requires treatment. While the laser hovers over the area, tiny dots of light penetrate the skin's surface to destroy hyperpigmentation and boost the production of collagen leading to healthy new cell growth. You will be given a topical anesthetic to minimize any discomfort and a cooling device will be used to calm the treated areas.
How will my skin look after hyperpigmentation laser treatment?
The treatment takes between 20-30 minutes and afterwards you can go on with your day without having to worry about taking time off for recovery. Immediately after the treatment your skin will swell and appear reddish. Due to the nature of the resurfacing technology used, it will look as if you've suffered a mild sunburn. However, this side-effect will fade quickly allowing you to wear makeup and wash your face as you normally would. You will need to stay out of the sun after your treatment to ensure proper healing and wear a broad-spectrum sunscreen with SPF 30 or higher.
Additional treatments and maintenance
In order to really restore the skin we recommend maintenance treatments such as chemical peels, jet peels, mirco-needling and facials. Each is designed to complement hyperpigmentation laser treatment by keeping the skin fresh and allowing for the creation of new skin cells.
We can correct your pigmentation issues with IPL photorejuvenation treatments. Please contact IGBeauty for more information or to book an appointment. We can give you the beautiful, age-defying skin that you deserve.