Peel Treatments in Toronto For Glowing Skin
What is a skin peel treatment?
A peel is a procedure, that uses a wide range of chemical or other abrasive exfoliating solutions, which are applied to the skin in order to remove the damaged outer layers of dead skin on your face.
The advantages of using a peel
We are all on a constant search for new products that help us to maintain and sometimes even attain a youthful look.
Constantly on the hunt for the newest eye lifting cream, face cream and even different types of injections for a quick shot of youth. The daily upkeep of ones skin is key in this whole process.
This includes getting regular facials as well as a variety of skin care treatments, which incorporate skin peel.
Chemical peels today are very advanced. At IGBeauty Studio we provide you with an excellent outcome without any horrible side effects.
What do peels do?
Create a lighter and brighter skin tone
Reduce the size of large pores
Diminish fine lines
Make wrinkles less visible
Promote blood circulation
Lessen sebum
Allow for easier extraction
Allow for cell development by stimulating fibroblast.
Boost veracity of skin
What skin conditions do peels treat?
Peels are used to treat a wide array of skin conditions. These include acne, sun damage, rosacea, photo aging and hyperpigmentation. Peels work by removing layers of dead skin cells which helps to regenerate fresh skin cells. This procedure reduces wrinkles and fine lines, creates a smoother and more even skin tone and texture, reduces pore size, which in turn helps to clear up blemishes. It also stimulates healthy and more balanced facial oil production.
Anybody with acne prone skin is a great candidate for a chemical peel. Getting a chemical peel treatment on a regular basis can improve the look of your fine lines without having to deal with the discomfort of facial injections.
There are different types of skin peels used to beautify your skin: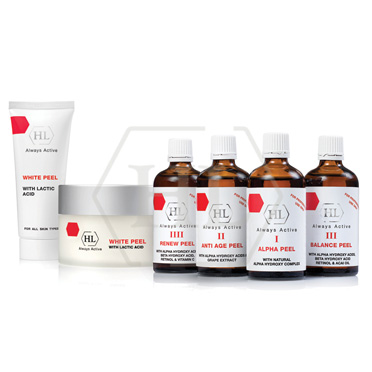 Chemical peels:
Chemical peels, work through chemical action by alpha hydroxyl (AHA) and beta hydroxyl (BHA), acids retinol or enzymes. Those ingredients break down the lipids that act like glue that holds the dead skin cells together, promoting cell turnover and thus help exfoliation of the dead skin cells.
At IGBeauty studio we work with HL professional peels to provide specific results in the approach for correcting different skin conditions.
WHITE PEEL

is an active, moisturizing serum with air-tight encapsulated soothing vitamins to relieve irritation, strengthen the tissue and diminish redness.

ALPHA PEEL

A unique complex of natural AHAs, increases cell renewal and improves the absorption of active ingredients for an even, soft and smooth skin. Suitable for all skin types.

ANTI AGE PEEL

Formulation based on a complex of natural AHAs and Grape extract, renews skin texture, stimulates collagen synthesis, provides a firming and lifting effect. Suitable for mature skin

BALANCE PEEL

Formulation based on a complex of natural AHAs, BHA, Retinol and Acai oil, clears blemishes and balances problem prone skin. Suitable for oily and problem skin.

RENEW PEEL

Formulation based on a complex of natural AHAs, BHA, Retinol and vitamin C, accelerates skin renewal, stimulates collagen synthesis, corrects imperfections and age signs to improve skin texture. Suitable for all skin types in need of intensive renewal.
Mechanical peels:
Mechanical peels, on the other hand, involve physically exfoliate dead skin cells from the skin's surface. Microdermabrasion and jet peel are other types of mechanical peels.
IGBeauty studio provides an amazing Rose de Mer peel by Christina that is derived of 100% natural ingredients, which include a variety of salts, minerals and marine plants. It is suitable for all skin types and skin colors as well. It is mild enough for sensitive skin too.

---
For anybody that is simply looking to improve his or her glow, a skin peel treatment is the way to go. It helps to even out the consistency of your skin and skin tone. This is not a miracle treatment and must be a part of a regular skin regimen. You are most likely going to see an improvement in your skin from very first treatment.