If you are in search of an effective long-term hair removal solution, you may want to consider visiting IGBeauty - a professional laser skin clinic in Toronto. With laser hair removal from IGBeauty Laser & Skin Clinic, you can forget about endless shaving, plucking, or waxing.
It's time to say "goodbye" to annoying razor bumps and skin irritation and say "hello" to flawless, permanently-smooth skin!
5 Reasons to Choose Laser Hair Removal at a Laser Skin Clinic in Toronto
Thousands of people, men and women alike, choose laser hair removal, - and not without a reason. When you decide to undergo laser hair removal treatment at IGBeauty Laser & Skin Clinic, you receive a professional treatment with a number of benefits.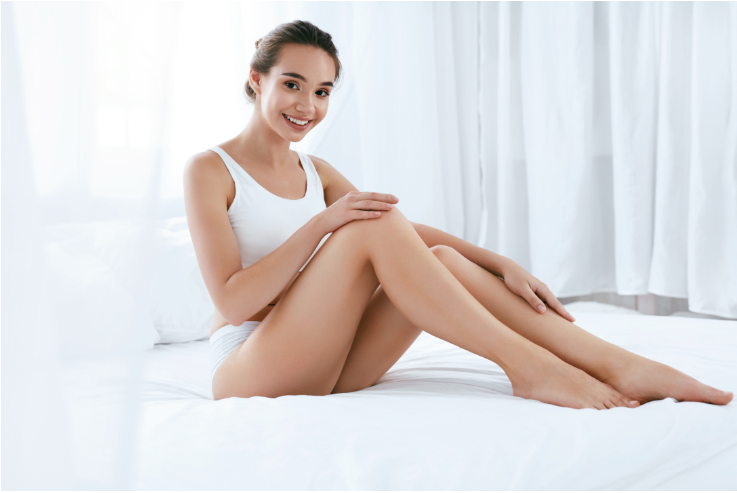 1. Minimal Side Effects
There are only minor side effects of the laser hair removal procedure, which fade completely within a few days. You're busy, and we get it! Luckily, with laser hair removal, you can resume your day-to-day activities right away.
2. Cost Effective
Once you undergo your laser hair removal treatments, you will no longer need to spend money on expensive wax treatments,depilatory creams, depilatory creams, or other temporary hair removal methods. Of course, laser hair removal may seem more expensive upfront, but over your lifetime, you will actually save a lot of money (and a big deal of time!) that would otherwise be spent on shaving or waxing.
3. No Waiting for Hair Growth
Remember those times when you had to let your hair grow out and avoid tank tops before going for a waxing procedure? With laser skin clinic in Toronto, such as IGBeauty, these awkward times are in the past! You don't need any surface hair for an effective laser hair removal treatment. In fact, you are encouraged to shave right before the procedure. This means that you can remain confident and fuzz-free at all times: before, during, and right after the session.
4. No Ingrown Hairs
Unlinke with threading, waxing, and epilation, you will not have to deal with unsightly and painful ingrown hairs. Neither will you have to put up with razor burns and irritation. In fact, laser hair removal can improve ingrown hairs and the overall condition of your skin.
5. Effective
At IGBeauty Laser & Skin Clinic, we offer effective laser hair removal treatments for patients with all skin tones and any hair colour and type. Most patients achieve permanent hair loss within 5 to 7 short sessions, 4 to 8 weeks apart. Whether you desire to get rid of unwanted hair on your legs, arms, underarm or bikini areas, you can be sure to receive a professional and effective treatment at our laser skin clinic in Toronto.
How Long do Effects of Laser Hair Removal Last?
You shaved only last night, but your morning routine is already interrupted with prickly, unwanted new hair growth? Whether you've been waxing, shaving, or tweezing, you are probably tired of losing the battle with these pesky hairs again and again. The good news is that laser hair removal offers a long-term solution to your body hair problems.
How does Laser Hair Removal Work?
In order to answer whether laser hair removal really produces permanent results, it is important to understand how it actually works.
The laser used for hair removal produces a focused beam of light that targets the melanin in individual follicles of actively growing hair, thus preventing the hair from future growth . However, not all of your hair is in the same growth phase at the same time. This means that only a portion of the hair follicles in the treatment area will be damaged by the laser during a single treatment, while the other portion will continue to grow. As such, you will require a series of laser treatments several weeks apart to target all of the individual hairs.
How Effective is Laser Hair Removal?
The effectiveness of laser hair removal largely depends on the type and colour of your hair, as well as your skin tone. Since the laser energy is absorbed by the pigment in your hair, the laser is most efficient when there is a noticeable difference in pigment between your skin and your hair. As such, laser hair removal will be the most effective for dark hair on fair skin. For lighter skin tones, we use our LightSheer® Duet™ laser device, which makes the procedure faster and more comfortable than ever! After just a few treatments, you will notice 80% to 98% hair reduction.
The experts at IGBeauty Laser & Skin Clinic also offer professional laser hair removal for darker or tanned skin. Our fast and powerful GentleMax Pro ® (Alexandrite / Nd:YAG laser) will yield great results for darker skin tones, while a cooling spray will add relief and comfort during the procedure.
Is Laser Hair Removal Really Permanent?
Unfortunately, no treatment provides a completely "forever" solution to unwanted body hair that suits everybody. That being said, a laser hair removal treatment at a laser skin clinic in Toronto, such as IGBeauty, can can deliver permanently lasting results. This will depend on whether the laser is capable of targeting each hair follicle throughout the course of the treatment. After 5 to 7 short sessions, nearly all of your unwanted hair will be gone, and your skin will be permanently smooth with no need for shaving or waxing procedures. Any regrowth can easily be managed with a touch-up session every 6 to 12 months.
Laser Hair Removal FAQs
How can I prepare for my laser hair removal treatment?
An important point prior to each laser session is to arrive without any makeup, deodorants, lotions, or any other cosmetics in order to allow the laser to reach the root and the follicle of your hair successfully. For about 24 hours after the treatment, the skin is typically more sensitive than usual, especially to certain cosmetic products and hot temperatures. Try to not use hot water while taking a shower or a bath, and do your best to stay out of the sun to minimize any post-treatment irritation.
Are laser treatments painful?
Most people who underwent laser hair removal describe the sensations as being similar to an elastic band hitting your skin lightly. Many clients say that laser hair removal is actually less painful than waxing, even though slight unpleasant sensations during the treatment are normal. You can take a low-dose painkiller prior to your session.
How long will the results last?
The longevity of the laser hair removal results will depend on the frequency of your visits, as well as on the number of visits. If you follow the schedule that was developed by your laser technician, the treatment will be more effective; the results will also be affected by your hormone levels and the colour and type of your hair. Our professional laser technicians will provide you with all the information in case you may require a touch-up session.
How long does an individual treatment last?
Even though laser hair removal sessions are typically quite fast, the exact duration will depend on the part of the body that you choose to treat. Some areas take around 20 minutes, while others can take up to an hour.
How many treatments will I need?
The laser can only target your hair when it is actively growing. However, at any given time, only some of your hair is in active growth phase, while other hair remains in the rest phase. This means that the laser will only target a portion of your hair during a single session. Therefore, to achieve optimal results, multiple treatments are required.
While 5 to 7 laser hair removal sessions may be required for long-lasting results, each session will be short in duration, taking up less than an hour of your time. The exact number of sessions required will depend on your skin tone, hair type and colour, and the body area being treated.
Most of the patients will also need touch-up sessions 1 to 4 times per year in order to maintain the permanent hair removal result.
How much does a single treatment cost?
The cost of the treatment will depend on the part of the body and the laser that is being used during the procedure. Our IGBeauty laser technicians will provide you with a free quote during your laser hair removal consultation prior to the treatment.
Is there laser hair removal for dark skin?
Yes, the advanced laser technology used at IGBeauty allows for safe and effective treatments of individuals with any skin tone. For darker skin, we use our fast and powerful Nd: YAG laser, which ensures increased comfort during the procedure. In addition, a cooling spray can be used to add relief during the treatment.
Is there laser hair removal for facial hair?
With the latest technologies, laser hair removal is completely safe even for the face. When you undergo professional laser hair removal for your face at IGBeauty, there will be absolutely no harmful effects and virtually no downtime. Even though certain post-treatment care may be needed, you will be able to resume your daily activities immediately. In fact, many of our patients even report that the facial skin is more revitalized and rejuvenated after the laser session.
Women commonly choose to treat their upper lips, chins, and sideburns. For men, the most common areas are the neckline and the back of the neck.
Is there laser hair removal for men?
The answer is yes! Nowadays, more and more men opt for laser hair removal due to its effectiveness, safety, and long-lasting results. Laser hair removal presents an effective solution to excessive body hair and provides numerous benefits to men, such is better aesthetics and hygiene.
At IGBeauty Laser & Skin Clinic, we can treat any part of a man's body, including back, chest, arms, legs, or underarms. In addition, we offer the Manzilian procedure for pubic hair removal, which has been gaining more and more popularity in recent years.
What's better: waxing or laser hair removal?
Of course, there are numerous potential solutions for getting rid of pesky body hair - from razors and depilatory creams to waxing and sugaring.
Laser hair removal presents the best solution to unwanted body hair for several reasons:
Price: Of course, waxing may seem like a cheaper option for getting rid of unwanted hair, as compared to laser hair removal. However, if you calculate the overall amounts spent on waxing procedures over a lifetime, you will realize that laser hair removal will actually save you quite a bit of money!
Longevity of Results: The biggest advantage of laser hair removal is, undoubtedly, the nearly-permanent results that it provides. Once you complete all of your laser procedures, there is no need to undergo regular treatments, unlike with waxing.
You can Shave in Between: Remember how you had to let your hair "grow out" before your next waxing procedure? With laser hair removal, you don't have to do that! In fact, you are even encouraged to shave right before your procedure.
Less Pain: We've all experienced the pain of waxing. While some unpleasant feelings may be present during the laser hair removal session, the numbing cream can make the procedure nearly painless, - and with no downtime.
Safety: During the waxing procedure, wax has to be heated. As such, it is easy to overheat and burn yourself. When you contact IGBeauty for professional laser hair removal, you can be sure that all your treatments are as safe a possible with no side effects.
Feel Flawless with Laser Hair Removal from IGBeauty
At IGBeauty Laser & Skin Clinic, we understand that our clients want to feel confident and beautiful without having to put up with irritation or pesky body hair. The team of expert laser technicians at our laser skin clinic in Toronto will guide you through every step of the process and create a personalized treatment plan to ensure optimal results. Get ready to put your razors away and experience flawless, permanently smooth skin!
Call us today at 416-484-4884 or visit https://www.igbeauty.com/service/laser-hair-removal to book a free consultation with one of our hair removal professionals.