For the ultimate in body contouring and cellulite reduction, Pollogen technology is designed to tighten skin without any pain, discomfort, or downtime. Pollogen technology is a medical/aesthetic system that incorporates a number of non-invasive technologies aimed at body contouring and cellulite reduction. Treatments are fast, effective, and with minimal discomfort. The technology is suitable for every skin type and colour, and can be carried out as a "walk-in and walk-out" treatment without any downtime.
Pollogen Technology to Tighten Skin and Regenerate Skin's Natural Elasticity
Best of all, the results are superior when compared – there are visible differences even after the first treatment. Clinically proven, Pollogen delivers long-term results that tighten skin and restore firmness. It's safe and effective in regenerating the skin's natural elasticity, and therefore an ideal approach to body contouring and cellulite reduction. Under professional supervision, the treatment protocol heats the skin's surface, and causes collagen fibres to contract, which in turn serves to tighten skin.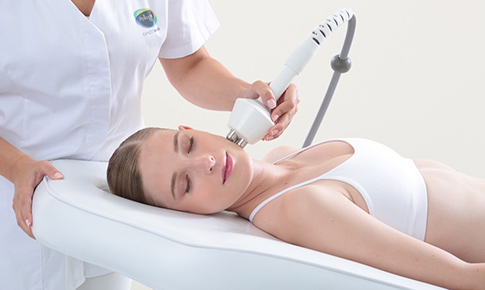 For many, even a good diet and regular exercise can't effectively prevent those bothersome fat deposits and fat cells. In particular, women accumulate fat deposits in the abdomen, waist and buttocks. With men, this is most evident around the abdomen and around the "love handles". From a treatment perspective, Pollogen tends to tone and tighten skin - an ideal non-surgical option for body contouring and cellulite reduction. For the most part, clients can resume day to day activities immediately.
Body skin loses its natural elasticity for a number of reasons. To begin with, age affects everyone, and loose skin is one of the unfortunate results. As well, environmental factors, especially the summer sun, can have a detrimental affect on the skin. Finally, life changes such as pregnancy and hormone fluctuations can affect skin quality in a negative way. Pollogen, along with the associated technologies allows for a non-surgical, non-invasive remedy to effectively deal with skin-deteriorating situations.
For body contouring and cellulite reduction, the Pollogen approach can work wonders – but there's much more in terms of benefits. Wrinkles and fine lines are noticeably reduced. Facial skin is firmed and tightened. Scars, acne, and stretch-marks are visibly diminished. And skin pigmentation can be minimized. Importantly, the treatment protocol aims to provide long term client satisfaction - abiding by strict regulatory guidelines, and maintaining high quality standards. It's safe and risk free.
Cellulite Reduction and Body Contouring at IGBeauty Studio
At IGBeauty Studio, trained clinicians use various Pollogen technologies to eliminate undesirable fat deposits from different parts of the body. And while results are often evident after the first treatment, several treatments are recommended to ensure the best results. With "heat treatment" and "muscle activation", fat cells are effectively eliminated and the skin is regenerated and toned. Clients at IGBeauty Studio are professionally treated in a comfortable environment that is safe and hygienic.
At IGBeauty Studio, clients will find a fine balance between skincare technologies and natural products. New clients are offered a personal consultation where skin conditions are assessed, and treatments proposed. To schedule an appointment, call 647-764-7490 or 416-484-4884.