Are you interested in finding out more about professional laser hair removal in downtown Toronto? The team at IGBeauty – the Toronto leader in cosmetology and laser aesthetic – is here for you. Get ready to put your razors and wax away for good and experience permanently smooth skin and a newfound confidence with our advanced technology photoepilation systems, which provide effective, fast and long-lasting removal of your unwanted hair regardless of skin tone or hair type.
Finding a Reputable Clinic
Whether you've made the decision to get laser hair removal or you're on the fence and need more information, finding a reputable clinic is key. IGBeauty's skincare team, consisting of a registered nurse, a medical aesthetician, and laser technicians, can tell you all about the different treatment options available, how each procedure works, as well as which option is best suited to your skin tone and hair type. You can rest assured you'll be working with professionals with years of industry experience who use state-of-the-art, Health Canada-approved technologies.
Laser Hair Removal for all Types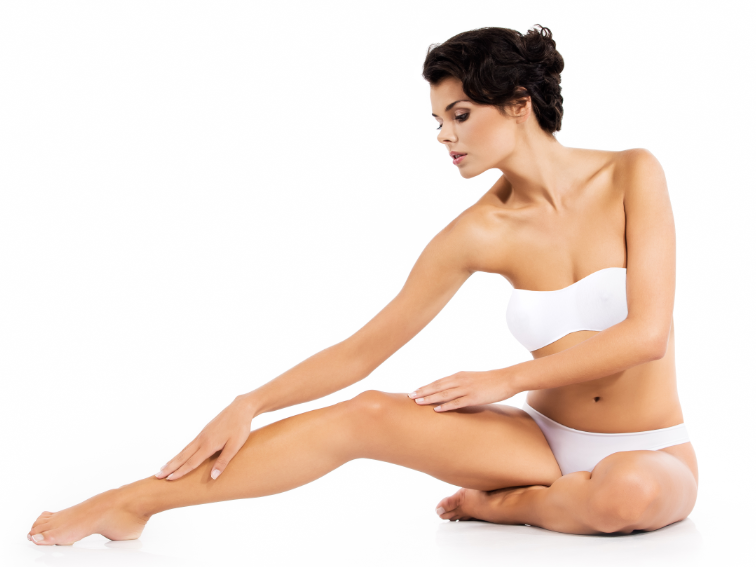 Laser hair removal works by targeting a hair follicle with a specific wavelength and pulse duration of light so that it becomes damaged without upsetting the surrounding skin tissue. The targeted area is generally determined by the presence of melanin – the pigment found in the hair and skin that gives them their specific colour. The melanin in the hair follicles absorbs the light, which in turn damages the follicle and prevents hair regrowth. While this means that the ideal candidate for laser hair removal has light skin and darker hair, there are some amazing technologies that have made this procedure safe and effective for people of all skin phototypes (often measured by the Fitzpatrick scale of 1-6).
GentleMax Pro is one of these options. The GentleMax Pro series of lasers provide the flexibility of having a 755nm Alexandrite laser – the gold-standard for hair removal on lighter skin types 1, 2 and 3, or a 1064nm Nd:YAG laser, which is ideal for darker skin types 4, 5 and 6. The Gentle series offers a patented Dynamic Cooling Device using cooling bursts of liquid cryogen, making messy cooling gels unnecessary. A large selection of spot sizes and a super-short pulse duration make the GentleMax option extremely effective for a wide range of people.
The Lumenis LightSheer Duet systems are another option. These use an 805nm diode laser with a high-energy blast to penetrate the skin. The laser's precision can focus on the hair follicle target without causing skin discoloration or burning on the surrounding tissue area. The customizable presets that control this laser include skin phototype, hair color and hair texture, thereby more effectively targeting hair follicles and differentiating them from surrounding tissue. This accuracy makes it suitable for a wide range of clientele. In addition, Lumenis LightSheer Duet therapy can be complemented by cooling technologies, which, while beneficial and soothing for anyone getting laser hair removal therapy, is especially helpful for clients with darker skin so that skin tissue can be cooled during the process while hair follicles are heated and critically damaged.
FAQs
Both GentleMax Pro and Lumenis LightSheer Duet laser therapy are excellent laser hair removal options. No special skin preparation is necessary before treatment, but consulting with a member of the IGBeauty team is important in order to discuss the best treatment method and the expected results. Clients may experience some slight irritation during the sessions, but the implementation of cooling devices during the procedures usually makes any discomfort minimal or non-existent. Some might notice slight skin discoloration around the treated areas, but this should return to normal after just a few hours. Keep in mind that the hair won't disappear immediately. Because the treatment involves damaging the hair follicle, the hair itself won't fall out until a few days afterwards. Several sessions are typically needed for the desired outcome, but the end result is a significant reduction and often complete elimination of the amount of hair in the treated area. Unlike shaving, waxing or even Intense Pulsed Light (IPL), laser hair removal is precise, effective, and suitable for a wide range of skin and hair types. With the help of the IGBeauty experts, treatment can be customized to meet the needs of each individual client regardless of skin type and the process can be completely stress-free!
At IGBeauty in downtown Toronto, we know that our clients want to feel confident, beautiful and ready for anything without having to worry about pesky, unwanted hair. Our team of professionals is here to inform you and guide you through the process every step of the way. Every treatment plan is personalized to ensure the very best results, and it is this personalized service that remains the key to our success. Contact us for more information about GentleMax Pro and Lumenis LightSheer Duet, or to make an appointment with one of our laser hair removal experts. A new smooth you is just a few sessions away!