Shaving frequently is long-gone and forgotten by the celebrities that do laser hair removal. After all, running from one set to another and spending hours and days travelling leave them with no time to battle unwanted hair with never-ending shaving or waxing procedures. Today, no music artist or movie star can risk irritation, ingrown hairs, or bumps resulting from plucking or waxing.
The number of Hollywood stars that choose laser hair removal for its numerous benefits just keeps growing. Among the stars that have already completed or still undergoing their laser hair removal treatments are Kim and Khloe Kardashian, Victoria Beckham, Alyssa Milano, and more.
Here are Some of the Celebrities that Do Laser Hair Removal:
Kim Kardashian
Kim Kardashian is very upfront about her laser hair removal procedures. Being American, she prefers all of her body completely hairless. As such, she chose to treat her arms, legs, bikini line, underarms, and baby hair on the forehead. She actually said that laser hair removal and staying pretty were closely intertwined.
Khloe Kardashian
Khloe Kardashian even had a laser hair removal treatment done on her show, "Keeping Up with the Kardashians". Khloe also noted that the laser hair removal treatment worked like a charm and left her feeling so clean all over the body.
Victoria Beckham
On the advice from Eva Longoria, Victoria Beckham ditched the razor and waxing strips for permanent laser hair removal and became one of celebrities that do laser hair removal.
Alyssa Milano
Alyssa Milano has had the laser removal treatment multiple times. While she experienced unpleasant feelings during the sessions, the results were totally worth it. With her dark hair, Alyssa makes a perfect candidate for laser hair removal, with fewer laser sessions leading to great results.
Lilly Ghalichi
Lilly Ghalichi admits that growing up, she had the worst experience with hair removal. Shaving her bikini or armpits gave her terrible razor burns and in-grown hairs. Lilly first tried laser hair removal on her face, underarms, and bikini line during her college years, and she is incredibly happy with the results ever since.
Hoda Kotb
Like some of the other celebrities that do laser hair removal, Hoda Kotb also had the laser hair removal treatment on her arms during one of her live broadcasts on the "Today Show". She described the procedure experience as feeling chilly like a blast of cold. Nevertheless, she was amazed with the final result.
There is a Reason Laser Hair Removal is Trusted by Celebrities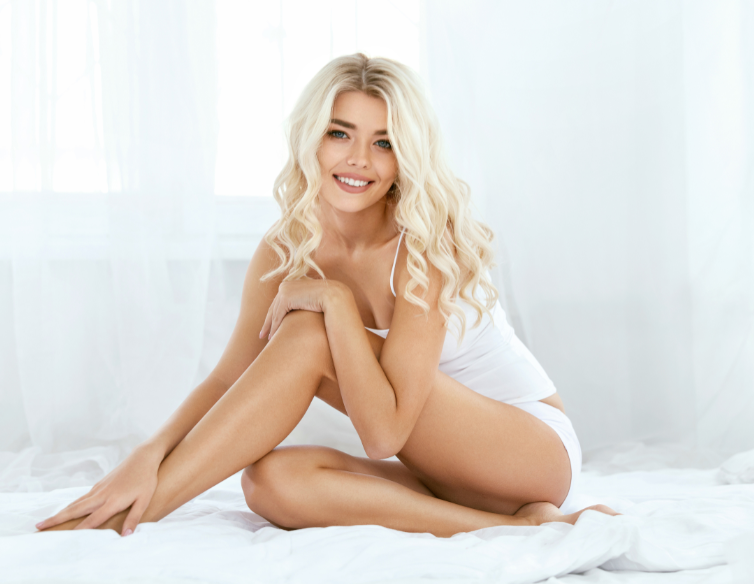 Celebrities tend to keep up with the beauty industry advancements, and they quickly figured out all the benefits of laser hair removal:
Forget about waxing, shaving, or plucking!
Think about how much time you spend on shaving, waxing, or plucking the unwanted hair and the pain associated with it.
With laser hair removal treatment, you can get rid of any unwanted hair without spending hours in the bathroom and not worrying about unpleasant cuts or ingrown hairs.
Guaranteed result
Laser hair removal procedure completed with proper technology by an experienced professional will deliver the result that you need. As long as a medical laser is used by a trained expert, you will see dramatic result in the removal of unwanted body and facial hair. As proven by celebrities that do laser hair removal, the procedure will make you Hollywood-ready just with 3 to 7 sessions.
Treat any part of the body
Laser hair removal procedure can be applied to any part of the body, such as legs and feet, hands and arms, brows, face, chest and nipples, underarms, stomach, navel areas, lower and upper back… You name it!
Virtually no side effects
With laser hair removal, there are only minor side effects which last a few days. Right after the procedure, your skin may turn red and a little swollen, but the unpleasant feelings will be gone in a few hours or days.
Laser hair removal is a money saver
Even through individual procedures for laser hair removal are more expensive than waxing, per say, the long-lasting results guaranteed by laser treatments mean that you will no longer need to spend money on regular wax treatments, razors, or depilatory creams. If you opt for laser hair removal, over your lifetime, you will actually save a huge amount of money (and a great deal of time)!
Forger about ingrown hairs and irritation
One of the most important benefits for celebrities that do laser hair removal is that with laser hair removal, there are no more painful and unsightly ingrown hairs, laser burns, or irritation. Laser treatments can even improve the condition of already-existing ingrown hairs.
Waiting for hair growth is in the past
For laser hair removal sessions, you don't need to have your body hair grown-out. In fact, you are encouraged to come to the session cleanly shaved. This means that in between your sessions, you can remain hair-free.
Laser hair removal sessions are fast
Even though treatment times can vary based on the size of the area being treated, the duration generally does not go over 1 hour, which means that you can easily fit the treatments into your lunch break.
For Professional Laser Hair Removal, Contact IGBeauty
Celebrities that do laser hair removal choose a painless, fast, and effective way to look their best at any time. At IGBeauty studio, we understand that our clients want to always feel confident and beautiful as well, without having to worry about unwanted body and facial hair, irritation, or ingrown hairs.
With highly skilled laser professionals using the most advanced laser technologies, IGBeauty remains the leader in cosmetology and laser aesthetics in Toronto. Our experienced team will guide you through the entire process to make sure that you receive effective, painless, and long-lasting hair removal with every laser treatment – regardless of your hair type and colour or skin tone. We personalize the treatment plan for each patient to ensure the best result possible.
Your new smooth, hairless self is just one phone call away! Contact IGBeauty today for more information on laser hair removal services or to make an appointment.