Brighten Your Day!
FluorOxygen+C is a multidirectional treatment for skin discoloration and photo damage. It lightens visible epidermal layers, while regulating melanin production in the deeper dermis. In combination with its home use products, Fluoroxygen+C provides long-term protection against biological and environmental factors that cause discoloration.
Discoloration: Causes and Treatment
Excessive sun exposure, Melasma, genetics, post acne damage and melanocyte hyperactivity are some of the factors that can have devastating effects on skin complexion. Fluoroxygen+C uses a unique approach, simultaneously treating visible damage in the upper skin layers, and slowing the production of pigmentation at its source to put a stop to discoloration.
The Fluoroxygen+C treatment moisturizes, rejuvenates and lightens damaged areas of the skin.
Lightens and evens skin tone while inhibiting melanin production
Exfoliates damaged cells, encourages cell division and stimulates healthy cell growth
Restores and protects skin against attack from free radicals
Increases Collagen and Elastin synthesis
Provides anti-aging properties and rejuvenates the skin
Increases skin's oxygen consumption, moisture and volume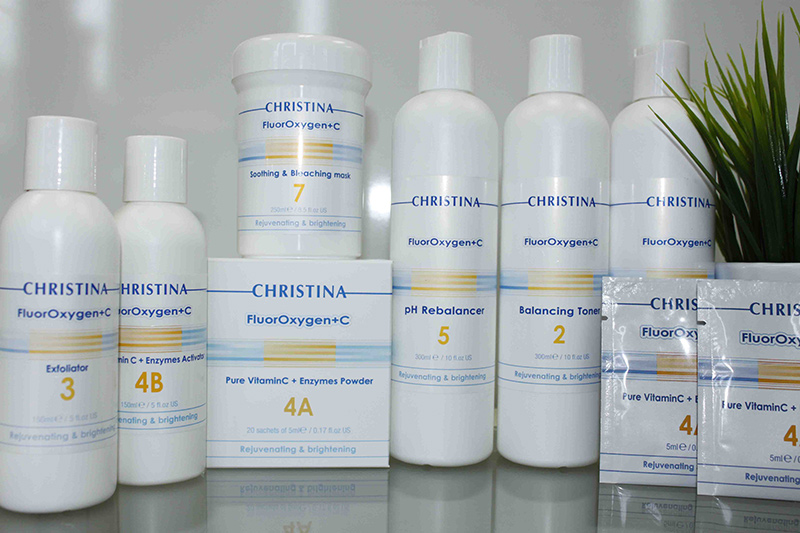 The Science Behind FluroOxygen+C
Working on multiple levels
The Fluoroxygen+C process begins by removing melanin trapped in the outer skin layers. Next an innovative blend of lightening agents penetrates the epidermal layers to diffuse existing melanin patches. Finally lightening acids infiltrate overactive melanocytes to decrease Tyrosine activity and normalize Melanin synthesis.
Fight sun damage
Fluoroxygen+C, treats the symptoms of sun induced premature aging, for younger looking skin. Rejuvenating blends of natural antioxidants and powerful extracts increase the rate of skin turnover and stimulate epidermal growth. Fluoroxygen+C blocks melanin synthesis to prohibit the formation of skin discoloration and stratum corneum damage.
Long Term Lightening Results
The Fluoroxygen+C home use treatment increases cell turnover, improves skin texture and locks in moisture to nourish the skin with essential nutrients. Consistent usage of home use products maintains salon results by regulating Melanin production to retain even skin tone.
Home Products Overview
Rejuvenating & Lightening Kit
LipoC-20 Day Serum:
The rejuvenating LipoC-20 Day Serum is a condensed formula that reinforces antioxidant power and contains 20% pure Vitamin C to ensure long-term stability and activity. The LipoC-20 Day Serum combines natural plant extracts with active anti-aging and lightening ingredients to provide a soothing effect.
VitaC-Clear Night Serum:
Operating deep within the skin at the basal layer, the VitaC-Clear Night Serum lightens skin as you sleep. This balanced formula of lightening agents and natural plant extracts normalizes melanin formation for a clear, even-toned complexion.
Alpha C Night Cream:
The powerful skin-bleaching and rejuvenating Alpha C Night Cream combats signs of aging and pigmentation throughout the night. The cream is infused with active ingredients that stimulate blood flow to enrich cells with oxygen, rebuilding Collagen and Elastin for increased skin elasticity and glow.
VitaC-light Botanical Lightener:
The VitaC-light Botanical Lightener is a unique blend of natural plant extracts, amino acids and vitamins that moisturize and lighten skin while fighting free radicals and boosting synthesis of Collagen and Elastin.
EyeC Eye Cream:
The EyeC Eye Cream is infused with an anti-aging formula to remove dark circles under the eyes, reduce puffiness and minimize expression lines, while protecting the eye contours from further environmental damage.
IntenC SPF-40 Day Cream:
Protect hyperpigmented skin from additional sun damage and minimize the visible signs of aging with the IntenC SPF-40 Day Cream. This non-oily formula renews and restores skin moisture, increases skin elasticity and leaves the skin nourished for a radiant and even-toned complexion.
Soothing & Lightening Mask:
The Soothing & Lightening Mask reduces skin discoloration by more than 40% with advanced, deep penetrating lightening and soothing agents. It instantly lightens skin tone and smoothes texture, while stimulating growth of healthy new cells, resulting in an even toned rejuvenated complexion.
Clarifying Scrub:
The gentle Clarifying Scrub removes sebum and dead skin cells, thoroughly cleanses pores and removes makeup residue. Bursting with rejuvenating elements and lightening agents, the scrub stimulates blood circulation to promote cellular and Collagen fiber regeneration to restore youthful beauty.
Facial Wash:
The mild Facial Wash removes dirt, makeup and impurities while promoting cell regeneration. This botanical-based, antioxidant-rich Facial Wash suppresses Tyrosine activity thereby reducing melanin formation for a long lasting lighter even complexion. Additionally, the Facial wash prepares the skin for optimal lightening reaction to further FluorOxygen+C treatment steps.
Balancing Toner:
Thoroughly cleanse skin with the Balancing Toner which reduces and prevents uneven skin tone.
This rich extract formula suppresses Tyrosinate activity thereby reducing melanin formation while Glycolic and lactic acids gently exfoliate skin and stimulate cellular regeneration. By increasing the skin's water capacity, the balancing toner provides an even-toned complexion with less dryness or redness.
Cleansing Milk:
The Cleansing Milk is a gentle blend of anti-oxidants with glycolic and lactic acids. These rich ingredients purify hyperpigmented skin, remove impurities and protect vulnerable skin from environmental and UV damage. This complex formula promotes cellular regeneration leaving skin clean, even toned and radiant!
Indications
Hyperpigmentation
Sun damage
Photo aging
Melasma
Post acne pigmentation
Post inflammatory damage
Key Active Ingredients
Alpha and Beta-Hydroxyl Acids
A combination of Glycolic, Lactic, and Salicylic Acids stimulate and rejuvenate the skin, while exfoliating dead epithelial cells.

Vitamin C
Natural sources of Vitamin C stimulate fibroblast activity, lighten skin and stimulate Collagen regeneration.

Kojic Acid
An innovative natural lightening agent that blocks melanin formation by decreasing Tyrosine activity.

Lipoic Acid A powerful skin rejuvenator, active in both water and oil, fights free radicals and increases the rate of skin turnover.

Witch Hazel and Chamomile
Natural extracts provide calming and soothing effects.
To lean more visit IGBeauty skin care clinic or book an appointment online now.