Control it Now!
Comodex is a comprehensive treatment that prevents and repairs acne, acne damage, oily and combination skin. Through a powerful combination of highly effective active ingredients, Comodex treats acne conditions at the source with a holistic approach. From the best of science and nature, Comodex salon and home treatments cleanse, calm, and rejuvenate skin for stunning results!
A Holistic Approach to Healthier Looking Skin
Acne and acne damage are caused by various internal and external factors that initiate a harmful cycle of blockage, contaminations and inflammation that unbalances and ultimately damages skin. Comodex treatments heal the primary causes of acne by exfoliating the outer skin layer, destroying infection, and regulating sebum production. Comodex's innovative ingredients and techniques go beyond typical treatments to bring skin to its healthiest state.
The Comodex treatment immediately removes excess sebum, softens pore congestion, and reduces redness and irritation for clearer, healthier looking skin.
Decreases sebum production
Diminishes comedones and prevents their appearance
Prevents bacterial proliferation through highly effective anti-bacterial ingredients
Diminishes the formation of scars
Reduces and prevents post acne hyper-pigmentation
Exfoliates dead skin cells and stimulates cell regeneration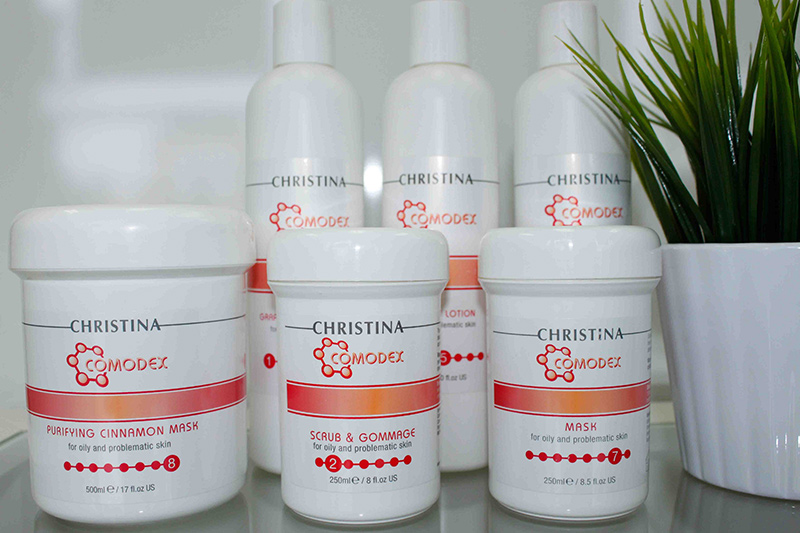 The Science Behind Comodex
Treating Causes Not Just Symptoms
Based on three core processes, The Comodex solution balances and purifies skin returning it to its normal healthy state.
1. Disinfecting antibacterial ingredients, such as tomato extract and Kojic acid, decrease the amount of contamination in infected comedones, simultaneously balancing oily skin.
2. Regulating sebum secretion active ingredients, such as Kaolin and cinnamon extracts, minimize the formation of sebum which clogs pores and feeds acne bacteria.
3. Drying and exfoliating outer layers of skin are dehydrated and removed to open pores, remove excess sebum and kill bacteria. A Smooth upper dermal layer decreases the potential for infection and reduces the appearance of acne scarring.
Home Use Products Continue Treatment Course for Long Term Results
An essential part of the Comodex treatment the home use products maintain healthy skin and effectively prevent secondary breakouts. The daytime transparent gel fights infection and regulates sebum production, while improving skin texture by promoting collagen synthesis. The night gel enhances skin renewal and proliferation with Retinol and Alpha-hydroxyl acid, unclogging pores while reducing hyperpigmentation and redness.
Home Products Overview
Treatment Kit
A – Cleansing Gel:
Thoroughly Clean and purify skin without over drying with the invigorating, foaming Cleansing Gel. A stimulating massage with the herbal extracts in the Cleansing Gel decreases inflammation, removes excess oil, sebum and surface pollutants while maintaining the natural moisture balance for calm, healthy looking skin.
C – Day Treatment:
Concentrating on the problematic areas, the Day Treatment features a combination of antibacterial extracts to fight infection and decrease sebum secretion. The Day Treatment is a transparent gel that maintains the skin's
natural hydration and flora for a matte look and improved skin texture.
N – Night Treatment:
The Night Treatment's active antibacterial and lightening ingredients enhance skin renewal and proliferation, unclogging pores while lightening blemishes and scars. This innovative peeling solution regenerates the skin, for a healthier, more even-toned complexion.
E – Drying Gel:
To reduce inflammation and heal existing blemishes the Drying Gel decreases excess surface oil and sebum. Infused with powerful keratolytic ingredients and antibacterial extracts, the Drying Gel provides an effective, non-irritating daily spot treatment without over drying the skin.
Double Action Mask:
While encouraging cell regeneration, the 15 minute aromatic Double Action Mask detoxifies and disinfects skin while calming, healing and protecting. Infused with anti-erythemal agents and natural extracts, the oil and excess sebum absorbing Double Action Mask unclogs and contracts pores, fights free radicals and preserves the natural moisture barrier for relaxed, refreshed and radiant skin.
Advanced Hydrating Serum:
The Advanced Hydrating Serum delivers necessary hydration without heavy pore-clogging ingredients, to keep skin clear and blemish-free without over drying. This unique formula is similar to the body's own Natural Moisturizing Factor (NMF), which is the biological foundation of young, clear, toned skin.
Mattifying Sunscreen SPF-15:
The Mattifying Sunscreen SPF-15 provides antioxidant skin saving action to reduce the signs of aging. The non-comedogenic, oil-free UVA/UVB Mattifying Sunscreen formula is based on natural humectants for long-lasting protection and moisture without clogging pores, leading to a smooth, even toned, matte skin texture.
Purifying Toner:
The Purifying Toner is a natural astringent and invigorating antiseptic for cooling, calming and purifying the skin. Infused with powerful antibacterial extracts, the Purifying Toner maintains the skin's moisture balance while dissolving pore-clogging pollutants, treating blemishes and preventing future breakouts.
Indications
Active acne
Oily and Combination skin
Post acne damage and scarring
Key Active Ingredients
Tomato Extract
A powerful antioxidant that promotes healing by inhibiting micro-organism growth and stimulating microcirculation.

Grape Seed Oil and Green Tea Extract
A powerful blend of ingredients that prevents sebum oxidation and the release of fatty acids.

T.S.R. (Transcutal with Retinol and Salicylic Acid)
A deep penetrating compound that regulates sebum excretion to prevent follicle congestion.

R.P.F. (Radical Protective Factor) Natural Antioxidants that support the skin's immune system, preventing formation of comedones.

P.C.S. (Pigmentation Control System)
Powerful lighteners that eliminate hyperpigmentation and suppress melanin hyperactivity.

Cinnamon Extract
An antibacterial agent that disinfects skin and reduces sebum formation while calming and soothing any irritation, leaving skin relaxed and refreshed.

Witch Hazel Extract
Shrinks pores and removes excess oils.