Some Common Questions and Concerns
About Manzilian Laser Hair Removal
As one of the more popular aesthetic treatments today, laser hair removal has come a long way. At IGBeauty, our clients still have misconceptions about the procedure and many questions that need answering. Of course, the best part for all our clients (men and women) is the amazing results that emerge even after three clinic visits. The hair-free results speak for themselves.
Does the laser hair removal hurt?
In general, laser hair removal does not hurt. This also applies to sensitive areas like the pubic region. The truth is, expertise is integral to an effective treatment, and our laser experts treat every client with care and caution. Beyond that, our high-tech laser devices are equipped with a cooling technology that ensures a safe and comfortable treatment every time. Regardless of skin colour or hair type, our laser devices provide protection to the surrounding skin, while effecting removing hair follicles. With variable laser pulses and consistent cooling, our devices are both safe and effective.
How many treatments do I need?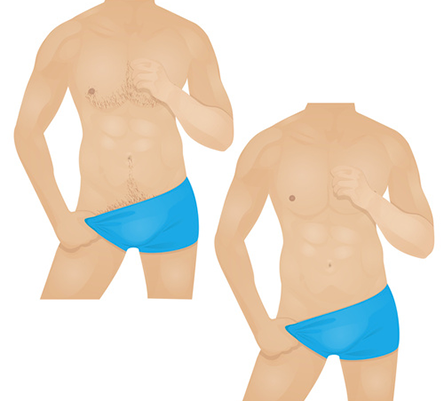 Because hair in the pubic region is in different phases of growth, more than one laser treatment is necessary in order to achieve the best results. In general, you need between five and seven clinic treatments, with six to eight weeks in between. You should also be aware that treatment protocol is affected by multiple factors: hair thickness; hair colour; skin colour; age and even hormones.
Still, there are many good reasons to undergo a Manzilian and the results will be well worthwhile.
Getting rid of stubby hair (from shaving)
Feeling much smoother to the touch
Stay cleaner, fresher, more hygienic
Enhancing personal sexual experience
Clearing the area for tattoos or jewelry
Can I do a partial Manzilian?
At the IGBeauty Laser & Skin Clinic, we offer our male clients a range of laser treatments from "shaft to testicles". We can even provide extensive hair removal throughout the entire region. If your preference is to thin out the hair (but not remove completely) we can do that too.
Deep bikini area which includes the genital area
Classic Bikini- about 3 inches outside the panty lin
Anal area which removes about 2 inches of hair
Buttocks hair removal in the surrounding area
Manzilian - complete pubic area and anus area
NOTE: Some men fear getting an erection during laser treatment. While it's quite possible, it's not related to sexual arousal. It's a physiological response directly related to the heat of the laser device
How does the laser work?
Laser hair removal makes use of focused light energy to remove body hair. Today's high-tech laser devices emit a very specific wavelength of light energy that is targeted right at the growth center or the hair follicle. The idea is to destroy hair follicles without damaging surrounding skin. At IGBeauty, our laser technicians use the most advanced systems in the world - LightSheer® Duet™ and GentleMax Pro®. The procedure is non-invasive and effectively stops hair growth in the treatment area. Most of our clients see visible results even after a few clinic sessions.
Does hair colour/skin colour matter?
Our clinicians use different laser wavelengths for different skin type, skin colour, and hair colour. For example, dark hair responds better to the laser than light hair. Depending on the client need, LightSheer® Duet™ and GentleMax Pro® are customized to deliver the most precise wavelength. By any measure, an experienced laser technician provides the best hair removal results. And at IGBeauty, you can be sure of expertise – our clinicians recommend the best approach, depending on your skin colour/hair colour. They also recommend the optimum number of treatments.
How should I prepare for treatment?
Similar to other hair removal treatments, the Manzilian requires some preparation. Hygiene is key, so you should be clean. You should arrive freshly showered. And you should be free of body lotions and the like - better hair removal results are achieved when your skin is less oily. At IGBeauty, we ask that for laser hair removal the treatment area be completely shaved. You should not wax (or pluck) the treatment area four weeks prior to the clinic appointment. This will ensure that hair follicles will be present enough for the laser to provide proper treatment.
How long does the hair removal last?
With Manzilian laser hair removal, the results depend on the individual - skin type, hair colour, and hair texture. Professionally performed, and with the right number of clinic visits, laser hair removal delivers effective, long-lasting results. The ultimate is to prevent hair from growing. Most important is to work with reputable and reliable clinicians like IGBeauty Laser & Skin Clinic. In short, the professional approach is the preferred approach - it will yield the best results, safely and effectively. Find out more by scheduling an appointment at 647-764-7490 or 416-484-4884.