Microneedling in Toronto is a highly beneficial treatment that has gained popularity for its many skin benefits, enhancing the complexion of skin as well as self-confidence. People of all ages and skin types visit local skin care clinics to take advantage of treatment benefits, including acne reduction, scar erasure and even wrinkle reduction. At IGBeauty, we use advanced technology, including the eDermaStamp by Dermaroller, to execute a minimally invasive treatment that enhances and rejuvenates the skin.
Due to the many advantages of microneedling in Toronto, many people seek ways to DIY the treatment at home. While this may be tempting, microneedling, like many other skin care clinic treatments, should always be left to the expertise of a professional. Read on to learn more about why you should visit IGBeauty for microneedling in Toronto.
How Microneedling Works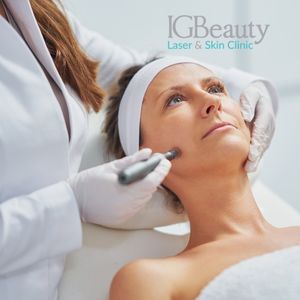 At a trusted skin care clinic, microneedling works by creating micro incisions on the surface of the skin. The tiny cuts stimulate the natural collagen and elastic protein production to boost cell renewal. While it is minimally invasive, this process should always be done by a skin care specialist who knows how to best navigate the facial to generate good results and cause no harm.
Professional Know-How
Skin care clinics in Toronto, like IGBeauty, have access to the best technology for these treatments, but when you bring these treatment homes with over-the-counter alternatives, these tools are less likely to be as effective or safe. Furthermore, the user who is undergoing the treatment is also executing, which limits access and control over your at-home derma roller, which can put you at risk of cuts, scrapes, and bruises.
Cuts & Bruises
When conducted at a professional skin care clinic, microneedling in Toronto is incredibly safe and will generate lasting results. But for those who are untrained, too much pressure or the wrong angle can leave you with cuts and bruising. Not only will bleeding be painful and comfortable, but it can also leave unsightly scars that will work against your end goal.
Risk of Infections
Since a critical element of microneedling is creating minor, microscopic cuts. Improper treatments done at home can generate larger cuts than intended, which may put you at risk for infection, especially if your home derma roller is not adequately cared for according to the high-level standards followed at IGBeauty. You can transfer bacteria which may lead to infection.
Reverse Effect
When microneedling is done at home rather than by a professional, it can have the opposite effect than intended. When you visit a trusted skin care clinic in Toronto, you can count on microneedling to reduce the visibility of scars. But, when microneedling is done on your own, you risk increasing scarring and hyperpigmentation.
About Microneedling at IGBeauty
If you're eager to eliminate imperfections on your skin, from stretch marks to acne, microneedling in Toronto at IGBeauty is an excellent option. Our team of specialists uses the best microneedling technology and techniques for safe and effective treatment. You can fall in love with your skin in just two to six weeks and IGBeuaty.