It's exciting to explore the idea of using laser hair removal in Toronto to be completely free of unwanted hair. Being hair-free is freeing as you will be ready and able to wear whatever you want without inhibitions of unwanted hair getting in the way. Laser hair removal is highly effective and safe, but only when used correctly and by a certified professional technician. It's important to know what kind of laser hair removal machines will be used on your skin as if they are not the right match, they can cause burns, hyperpigmentation, or not be suitable to remove your hair type. IGBeauty is a trusted skin and laser clinic serving Toronto, offering the most advanced technology on the market.
Read on to learn more about why you need to know which laser hair removal machine is used for your treatment.
Laser Hair Removal Machines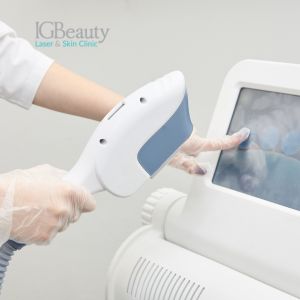 There are a variety of laser hair removal machines available on the market, but not all of them work the same or have the same efficacy. Some laser hair removal machines are safe for tanned skin and darker skin tones, while others are not. Making sure you are well informed on what different types of laser hair removal machines are suitable for your skin will ensure you are getting the best results available to you and help prevent a laser injury or damage to your skin.
Remember, your laser technician is just as important as the laser machine to ensure a safe treatment with excellent results, so ensure the laser technician is certified and trained wherever you choose to do your laser treatments. Don't be shy to call and ask the laser clinic these questions before booking an appointment.
Popular Laser Hair Removal Machines and Their Specialties
Laser hair removal in Toronto offers a variety of options for people to choose from. Let's explore a few of the most popular laser hair removal machines on the market that you might find in different clinics in the city.
Alexandrite 755nm Gentlemax Pro: It is great to target hair with limited pigment and low contrast to generate more effective results.
Nd:Yag 1064nm: The Nd:Yag is making waves in the laser industry as it is both safe and effective for darker skin tones. It is less effective for treating fine or light hair but an effective option for those with darker hair on dark skin tones.
Diode Lasers 810nm LightSheer Duet: The Diode 810nm laser is excellent for light to medium hair on light to medium skin tones. This machine is excellent for covering large areas of the body as it offers the fastest treatments available.
Each laser offers its own benefits, and often, professional laser clinics will provide more than one type of technology to target a diverse clientele.
Embrace Leading Laser Hair Removal Technology
IGBeauty offers two laser machines, the GentleMax Pro by Candela and the Lumenis Light Sheer Duet, that combine several laser technologies so their clients can reap the benefits of several technologies. Our entire team is certified and well-trained, and we pursue continuing education to continue offering the best laser hair removal services.