Aging is a natural part of life, contributed to by the sun, gravity, and time. Still, as lines and wrinkles appear on our skin, aging can have challenging effects on our lives. Aging skin is often the source of reduced self-confidence and it changes how our makeup applies. Anti-aging facials and treatments, like mesotherapy in Toronto, can slow and reverse the signs of aging for more youthful and healthy skin. If you're concerned about your aging skin, contact IGBeauty, one of the best skin care clinics in Toronto, to learn more about mesotherapy and all of our treatment options.
Here are a few reasons people want to reverse the signs of aging.
Helping With Self Esteem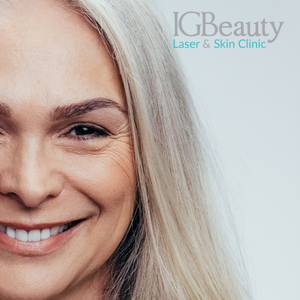 While aging is a part of life, and we expect to show some signs in our skin the older we get, it may still affect our self-esteem and confidence. Mesotherapy minimizes fine lines, eliminates hyperpigmentation, and reduces acne. This way, you can walk out of your home without worrying about an uneven complexion or acne scars. At IGBeauty, we use reliable and testing technology to ensure that mesotherapy in Toronto is painless and that there's no skin trauma. For reliable results around your nose, eyes, and lips, the U225 Injector is best.
Feeling More Youthful
Eliminating fine lines and ensuring brighter and tighter skin is a massive part of feeling more youthful daily. With mesotherapy in Toronto from trusted skin care clinics in Toronto, like IGBeauty, your skin will be more radiant, rejuvenated, and protected. If aging skin is a primary concern of yours and you want to feel more youthful, mesotherapy is an accessible option. With collagen induction therapy and micro-needling, you will leave IGBeauty feeling fresh and youthful.
Makeup Application
Applying your skincare and cosmetics may become expensive and trickier as you age. Fewer fine lines, an even skin tone, no acne, and tighter skin will minimize your skincare and make up routine in the morning. Even with your regular makeup routine, your foundation and concealer will stay on for longer and won't crease as quickly.
What Symptoms of Aging Does Mesotherapy Target?
Mesotherapy is used to reduce wrinkles and fine lines. It tightens sagging, dehydrated skin, hyperpigmentation, and acne. Our tools at IGBeauty, like the eDermaStamp by DermaRoller, uses micro-needling and traditional mesotherapy practices to boost your skin's ability to stimulate collagen, ultimately building layers of healthy, resilient skin.
Other Benefits of Mesotherapy in Toronto
Aside from reducing signs of aging, mesotherapy has many benefits. If you have thin hair or alopecia, mesotherapy is an excellent treatment to help boost hair growth and thicken hair. Additionally, mesotherapy will help reduce the appearance of scarring and stretch marks.
Finding a Trusted Skin Care Clinic in Toronto
Mesotherapy is a traditional skin care treatment that has become advanced over many years of development. While contemporary mesotherapy is new, our team of trusted specialists at IGBeauty are leaders in advancing this technique. During your consultation, our technicians will cater to your every need, guaranteeing every experience is personalized to your skin type and concern.
Contact IGBeauty today for a consultation.