Mesotherapy in Toronto is advanced by effective treatment used to treat pigmentation disorders. Many people struggle with the frustration of hyperpigmentation, finding it both frustrating and challenging to treat. In fact, hyperpigmentation is one of the leading reasons people invest in an advanced skincare routine or visit a skin care clinic in Toronto.
If you're looking for effective pigmentation treatment in Toronto, read on to learn why Mesotherapy at IGBeauty is right for you.
Fast Results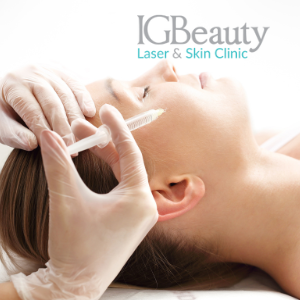 Like many Torontonians who've been trying skin care products and fancy treatments without any results, you're probably looking for a solution that works quickly. After just one session at the IGBeauty skin care clinic in Toronto, customers immediately noticed the results. From dark spots fading and the rest of the skin brightening, mesotherapy is a results-oriented treatment.
Full Range of Pigmentation
Hyperpigmentation is a common skin condition that causes some areas of skin to become darker than others due to excess melanin production. What triggers melanin production differs on a case-by-case basis. Essentially, there are three main types of hyperpigmentation: age spots, melasma, and post-inflammatory hyperpigmentation. Mesotherapy helps to treat melasma and post-inflammatory hyperpigmentation.
Summer-Time Friendly
The summer is when most people want to go out and feel most confident. But hyperpigmentation can make feeling good in your skin uncomfortable. While makeup and concealer are options, the Toronto heat often leaves it melting off or increasing skin congestion, with no long-term solution. Mesotherapy, on the other hand, is a perfect treatment for summers in Toronto because it does not leave the skin vulnerable to the sun and light damage. So, if you prefer to go out with a natural look after a visit to our skin care clinic in Toronto, you'll feel great leaving the concealer behind.
Fend of UV Damage
Especially with post-inflammatory hyperpigmentation, the harsh light from the sun can trigger melanin production and worsen dark spots on the skin. By scheduling mesotherapy in Toronto during the summer and always wearing SPF 50 or greater, you can offset pigmentation and damage from the sun throughout the summer.
Mesotherapy at IGBeauty in Toronto
At IGBeauty, we put care into every treatment we offer and customize our approach specifically to your skin and experience. We recommend four mesotherapy sessions at our Toronto skin care clinic for optimal results. To fight pigmentation, we use Hyaluronic Acid, Glutathione, Tranexamic Acid, brightening peptides, and Vitamin C in our meso cocktail to improve your complexion.
Hyaluronic Acid helps to smooth the skin texture, hydrate, and increase skin cell regeneration.
Glutathione is an antioxidant that prevents free radical damage to your cells.
Tranexamic Acid reduces dark spots and discolouration for a more even skin tone.
Vitamin C or Ascorbic Acid stimulates collagen and elastin production and brightens skin while fading discolouration and dark spots, leaving you with more even and youthful-looking skin.
If you want to learn more about mesotherapy at IGBeauty, our specialists are here to help. We will answer your questions and help you choose a treatment that suits your skin.