Laser hair removal in Toronto is a highly sought-after treatment as it provides convenience, comfort and beautiful results. Once you make the decision to consider laser hair removal, you need to look at various laser clinics and consider what laser hair removal machines are being used. When thinking about Brazilian laser hair removal, you must understand what laser machines are used at laser clinics in Toronto and which would be best for treating the specific area. IGBeauty offers the most advanced laser hair removal technology on the market and provides different machines to different skin and hair types.
Read on to learn why the type of laser hair removal machine matters for Brazilian laser hair removal.
Minimize Sensitivity & Ensure Comfort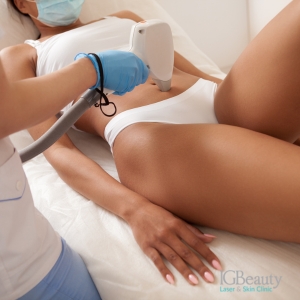 Brazilian laser hair removal treats a highly sensitive area of the body. Ensuring you are working with an experienced professional is important, and they have a laser hair removal machine equipped to target the Brazilian area. The right laser hair removal machines will offer cooling effects to the sensitive skin to generate results without pain. When considering a Brazilian laser hair removal treatment, some of the best laser hair removal machines consider a machine that offers a cooling tip or a painless machine. At IGBeauty, our specialists use the Lumenis Light Sheer Duet, which has a ChillTip™ to help cool the area during the laser treatment.
Target Specific Body Areas
The Brazilian is a small area to treat, so it's important that the laser machine can be adaptable to effectively perform laser hair removal on such a small area. The Lumenis Light Sheer Duet machine offers two different size heads for different areas of the body. The smaller-sized head is excellent for smaller areas. of the body. The GentleMax Pro, another laser hair removal machine offered at IGBeauty, has the ability to target areas as small as 1.5mm to 24mm, so it can be used easily for Brazilian laser hair removal treatments.
Maximize Treatment Effectiveness
It goes without saying that for any laser hair removal treatment, you need to work with a laser hair removal machine that will be effective. For instance, if you have darker skin, you would want to consider Nd:Yag technology. Different laser machines focus and are more effective for specific skin types and hair colours.
Explore Top Laser Hair Removal Machines at IGBeauty
IGBeauty offers a range of laser technology to address different skin and hair types. At IGBeauty
You will find Lumenis LightSheer Duet, Alexandrite and Nd:Yag lasers. This ensures that there is a machine that can work effectively on dark and dark skin to light hair on light skin.
Choose IGBeauty for Your Next Brazilian Laser Treatment
IGBeauty is a leader in the skincare and laser hair removal industry. We were established in 2010 and have always remained committed to continuing education and finding the best treatments for our clients. We are a professional team of medical doctors, registered nurses, and medical and laser aestheticians. If you have any questions about laser hair removal, don't hesitate to contact one of our experts today to book a consultation. Laser hair removal is life-changing, and our experience, skills, and advanced technology will make us an excellent partner for your journey.