Laser hair removal in Toronto is an excellent idea for any season but offers more significant benefits when beach season rolls around. In the summertime, people often find themselves in their swimsuits, enjoying the beach and showing a little more skin as they embrace the warmer weather. Laser hair removal is a terrific way to boost your confidence and ensure you are always beach ready. Laser hair removal in Toronto's prices are well worth the investment as the result is a beach-ready body with no worry or maintenance. IGBeauty is a leader in Toronto's laser hair removal industry; the laser technicians are certified and well-trained to provide top-tier service.
Laser Hair Removal In Toronto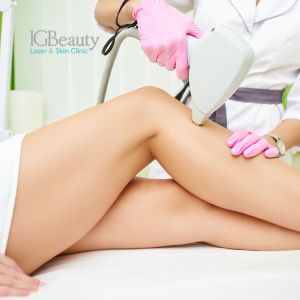 Laser hair removal in Toronto is in strong demand by men and women from a broad range of ages. Laser hair removal removes the need for frequent painful hair removal alternatives, like shaving and waxing. Laser hair removal removes all of the uncomfortable side effects of other hair removal procedures, so you can say goodbye to ingrown hairs, rashes, nicks and razor burns. The convenience laser hair removal provides to your everyday life is second to none. Whenever the beach season arrives, and you receive an invitation to join friends and family at the beach, you can say yes without having to worry about shaving or booking a waxing appointment.
Saving Money with Laser Hair Removal
Laser hair removal in Toronto's prices are well worth their value. After only 5 to 7 laser hair removal treatments, the treated area will be virtually hairless - permanently! You will save money by no longer needing to invest in a lifetime of shaving razors or wax strips. Plus, you will no longer have to commute to appointments for waxing appointments or to the drug store to buy shaving razors or wax strips. You will save money, time and energy over the long run that can be put towards something else. So not only does laser hair removal deliver enormous convenience to your life, but it also saves money over time.
Popular Areas of the Body for Laser Hair Removal
When it comes to laser hair removal, it can be safely performed on all areas of the body and face. So many men and women might opt to have their entire body lasered. Men may focus on large areas like the back and chest for laser hair removal. Men also like to have hair removal on the face to define their beards or goatees and remove any hair on the neck.
Women often use laser hair removal all over the body and might focus on Brazilian laser hair removal and laser on the legs.
It is up to each individual about which area they want to be entirely and permanently hairless.
IGBeauty for Advanced Laser Hair Removal
IGBeauty is a pioneer in laser hair removal in Toronto, offering advanced technology, a highly skilled team and the ability to safely perform laser hair removal on various skin tones. If you would like to learn more about laser hair removal, don't hesitate to contact us.