The results of high quality laser hair removal in Toronto are hard to deny, especially in the summertime when clothes get smaller and beach visits become more frequent. For many people regular shaving, grooming, and hair maintenance is a time-consuming process that takes away precious time from daily routines. For those looking to ditch the razor, IGBeauty, a trusted laser skin care clinic in Toronto offers a full range of laser services from laser hair removal for the face and laser for the legs to bikini and Brazilian laser hair removal. As summer dwindles down, it's the perfect time for you to get your body hair-free with laser hair removal services.
Read on to learn more about why you should start your hair removal journey this fall with experts at IGBeauty.
Minimize UV Exposure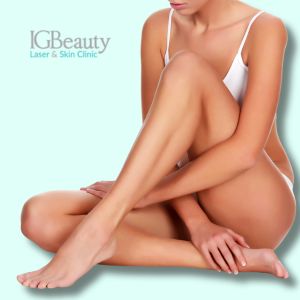 During the laser hair removal process it's important to avoid excessive sun exposure between sessions. In the summer months in Toronto, staying out of the sun or covering your skin can be incredibly challenging with hot days and heat waves. During the fall the impact of UV rays are less intense, and there are fewer activities that involve being out in the heat. Fall also marks a time of long sleeve shirts and full-length pants, which allows people to cover their skin without being uncomfortable as a result of the temperature. If you are planning on heading to the beach or on vacation, consult with the experts at IGBeauty about how you should schedule your laser hair removal services in Toronto.
Get Ready for Your Next Day in the Sun
If your goal is to always be beach-ready, Fall is the perfect time to get started with laser hair removal in Toronto. Successful treatment takes approximately 5 to 7 treatments spanning a few weeks. With bikini and Brazilian laser hair removal in Toronto you won't have to worry about being in a bathing suit for a good amount of time. So, when the end of your sessions come around you can show off your new hair free body on spring break, christmas holidays, or during the summer.
Benefits of Switching to Laser
Laser hair removal services offer a trifecta of benefits that extend beyond mere aesthetics, promising a transformative experience that goes far beyond the surface. Firstly, they are a savvy investment, allowing you to save money in the long run by eliminating the need for constant shaving, waxing, or purchasing costly razors and creams. Beyond the financial aspect, laser hair removal brings relief from the perpetual irritation and discomfort that traditional hair removal methods often entail. Say goodbye to painful waxing sessions and itchy regrowth. Finally, laser hair removal empowers you to embrace a body you love fully. It liberates you from the constraints of unwanted hair, granting newfound confidence and self-assuredness as you revel in the beauty of smooth, hair-free skin. In choosing laser hair removal, you're not just investing in a service; you're investing in a lifestyle of convenience, comfort, and self-love.
At IGBeauty, our specialists are here to help you achieve your body and skin goals. Book a consultation to learn more about our services.