Microneedling in Toronto, or collagen induction therapy, is becoming an increasingly popular facial care treatment that revitalizes the skin and naturally boosts collagen production. More and more people are reaping the benefits of microneedling at a skin care clinic in Toronto for better looking and feeling skin.
This rejuvenation treatment helps minimize the appearance of pores, reduces fine lines, treats scars and gives skin a glowing complexion. With gentle eDermaStamp technology by Dermaroller, microneedling creates tiny skin pricks that trigger the skin to repair itself. Overall, this treatment increases collagen production and strengthens the skin during the healing process.
If you're interested in microneedling in Toronto from IGBeauty, keep reading to know what to expect.
Before Microneedling in Toronto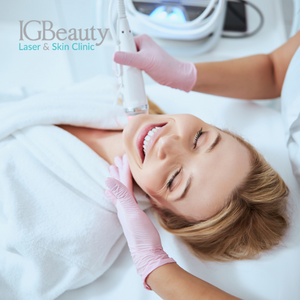 There are several steps to take before you begin your microneedling sessions at IGBeauty.
Medication: If you're on medication like Accutane, you must stop taking it six months before your treatment begins. Additionally, you should avoid topical retinoids or topical antibiotics; these will make your skin incredibly sensitive and increase the risk of irritation. In the week before, avoid any pills or medications that are blood thinners, like ibuprofen or naproxen. Ibuprofen or naproxen will interfere with the natural inflammatory healing process essential to your skin rejuvenation.
Skin Care Products: When beginning microneedling treatments, you should also adjust your skin care regimen. Refrain from using exfoliating skin care products, like retinol or acids. Limit your skincare routine to gentle cleansers and moisturizers. If you're not sure which products you can continue using, talk to your skin care specialist at IGBeauty. Our team will guide you through the best options for your skin.
Hair Removal: Avoid waxing, hair removal creams, lasering, or electrolysis to the area being treated the week before. Hair removal will only increase the sensitivity of your skin's sensitivity, increasing the likelihood of irritation. While shaving a few days before the procedure is generally okay, it's best to refrain from hair removal two days before your session.
Consult with IGBeauty: Before your first appointment, schedule a free consultation for microneedling in Toronto. Our specialists will help you prepare and ensure you're comfortable and excited to begin your skin rejuvenation journey.
After Microneedling Treatments in Toronto
Once you've completed your first microneedling session at IGBeauty, your trusted skin care clinic, there are a few measures you can take to ensure the best results.
Sun Exposure: In the first 4 weeks following your treatment, staying away from direct sunlight and tanning is critical. If you know you will be in indirect the sun for a few hours soon after your microneedling appointment, use mineral sunscreen to prevent damage from UV light
Medication: To protect your skin, we recommend avoiding NSAIDs painkillers such as ibuprofen and naproxen. Your skin is still healing, and you don't want these type of medications to disrupt the process.
Skin Care & Cosmetics: After visiting the medical skin care clinic, continue to disuse retinol, chemical peels, and exfoliants recommended by your microneedling specialists. Instead, treat your skin with a soothing and unscented cleanser, cool water, and use clean towel to pat it dry. For best results, keep your face bare from makeup for at least two days.
Microneedling at Our Skin Care Clinic
This minimally invasive treatment has many benefits. At IGBeauty, we use the Dermaroller or eDermaStamp, both of which help repair skin cells and boost collagen production. Microneedling helps improve acne scars, pore size reduction, hyperpigmentation, and fine lines.
Start revitalizing your skin.