Everyone is beginning to prepare for the summer season, and they will return to wearing their shorts, swimsuits and tank tops. The anticipation of warm weather leads many people to start scheduling appointments for laser hair removal in Toronto so they can bare their skin comfortably all season long. Bikini, leg, underarm, and other treatment options for laser hair removal helps minimize summer maintenance time by removing waxing and shaving from your routine.
At IGBeauty, you can get your skin in shape for the season with expert laser hair removal specialists at our leading laser clinic in Toronto.
Read on to learn more about what you can expect at your appointment.
First Appointment Protocols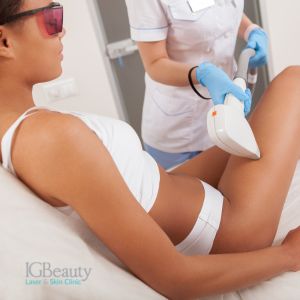 When you go for laser hair removal in Toronto, you will be asked to fill out an information sheet so they can understand what your goals are and if you have any health issues. One question that should not catch you by surprise is that your laser technician may ask about your ethnicity and heritage to determine the best settings for our laser machines which are needed for safe and effective results.
Your technician will then explain step by step the laser process. Your laser tech will ask you to expose the area to be treated, leave the room, and then return once you are ready. They will then give you safety goggles to protect your eyes. Depending on the laser machine used, your laser tech may apply laser gel to the area to be treated for a more smooth and comfortable experience.
Bikini Laser Hair Removal
If you are starting bikini laser hair removal, your technician will explain that it will take several treatments before the majority of the hair is gone. They will also advise on only shaving, and to refrain from waxing, between your bikini laser hair removal treatments. They will often go over the treatment area several times. If the area begins to feel sensitive you should always let them know.
They will explain the process and wait time for your subsequent treatment.
IGBeauty is aware that different people have different preferences for their laser hair removal goals and so they offer five different bikini laser hair removal options for their clients to choose from.
Post-Treatment Care
Your technician will then go over the post-treatment protocol. Generally, they will advise keeping the treated areas out of the sun and wearing a high SPF sunscreen for protection.
Your tech will likely discuss the hair growth phases so you don't feel alarmed once you begin to notice hair falling out.
Book Your Laser Hair Removal with IGBeauty
IGBeauty offers a team of highly qualified, experienced professionals to perform your laser hair removal. We offer the best in-class technology for laser hair removal that is safe and effective. We can work with a variety of skin tones and have a large clientele of men and women in Toronto who use our services for excellent long-lasting results.
Contact IGBeauty now to book a consultation with one of our highly experienced specialists.