While acne is often associated with adolescence, the struggle of acne is commonly experienced by men and women, even in adulthood. Acne can easily scar and affect the way you feel about yourself on a daily basis. If you've tried everything under the sun, including products, treatments, and specific diets to eliminate acne and acne scarring, and nothing seems to work, it can be extremely disappointing and leave you feeling hopeless. When visiting a skin clinic in Toronto, they will most likely recommend laser treatments for acne scars. At IGBeauty, our professionals effectively treat acne scars with intense pulsed light (IPL) and ResurFX™, so you can feel great in your skin.
Continue reading to learn more about the best treatment for acne scars.
Intense Pulsed Light (IPL) Vs. ResurFX™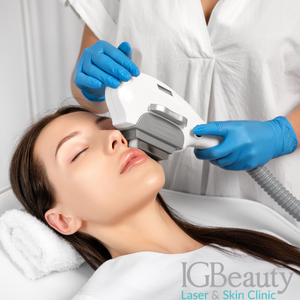 IPL: The M22 Intense Pulsed Light by Lumenis, also known as IPL Photorejuvenation or Photofacial, is a gentle yet effective laser treatment for acne scars. This state-of-the-art laser technology effectively reduces post-inflammatory pigmentation, post-inflammatory erythema, and redness. IPL photofacial treatments also kill acne-causing bacteria, while also reducing excess sebum production in the skin to prevent future breakouts.
ResurFX™: The M22 ResurFX™ fractional laser by Lumenis works by treating atrophic and hypertrophic scars and post-inflammatory hyperpigmentation. This advanced laser technology significantly reduces the size of your pores, improves skin texture, diminishes the visibility of scars, and softens the appearance of scarring when lesions start to heal.
At IGBeauty, our goal is to improve your skin and give you the confidence you deserve. Our team of laser technicians will thoroughly explain the treatment in detail and provide you with any additional resources to aid in the process.
How Does Laser Technology Treat Acne Scars?
The ResurFX™ is a non-invasive skin rejuvenating technology that is effective, safe, and a proven solution for acne, scarring, hyperpigmentation, and other facial concerns. ResurFX™ is exceptionally gentle and only requires one pass over the skin, reducing the amount of time while protecting the surrounding skin. The M22 ResurFX™ by Lumenis offers advanced laser treatment to visibly reduce acne scars while ensuring your skin is cared for throughout the treatment. With IGBeauty's laser treatments, improvement is visible for up to 6 months following the treatment.
M22 IPL acne treatments by Lumenis consist of short pulses of intense light projected into the skin. This light penetrates through layers of the skin, helping eliminate acne bacteria, inflammation, and scarring. IGBeauty uses IPL to treat specific areas, triggering a biochemical response that kills acne bacteria.
How Many Sessions Are Needed for Results?
ResurFX™ targets and stimulates collagen regeneration. Typically, 3 to 5 sessions, 4-6 weeks apart, need to be performed to see visible improvement in hyperpigmentation, texture, and scarring. However, for most clients, there is an improvement as soon as the first treatment is complete.
The IPL laser treatment is also referred to as the "lunchtime" procedure, as it takes only 15-20 minutes and requires no recovery time. Moreover, there are fewer side effects compared to other acne treatments that can leave your skin burning, swelling, and irritated. The IPL treatment drastically improves the overall appearance of your skin in just 3 to 5 sessions with 4-6 week intervals.
When scheduling laser treatments for acne scarring, visiting a professional and highly experienced skin clinic in Toronto is essential. At IGBeauty, our dedicated professionals have years of experience performing laser treatments in a safe and efficient manner.
Effective Treatment For Acne Scars
When choosing a skin clinic, you'll want to find a place suited to your preferences and budget. At IGBeauty, our team is composed of experts, so you can trust that we have the experience and knowledge to perform effective laser treatments.
Want to eliminate your acne scars and start feeling better in your skin? Contact IGBeauty and we'll recommend the best suited treatment for acne scars.