We all want to feel good in our bodies, but unfortunately, sometimes, it's challenging. While you may feel as if there are endless options out there that'll help you feel more confident in your own skin, body contouring in Toronto from IGBeauty has become an increasingly popular treatment. Non-surgical body contouring from a trusted laser and skin care clinic is a non-invasive treatment that offers quick results. Firming muscle, reducing fat, tightening of the skin and erasing the appearance of stretch marks, body contouring in Toronto with IGBeauty will leave you feeling like your best self.
If body contouring treatments are new to you, read on to learn more about it.
Primary Purpose of Body Contouring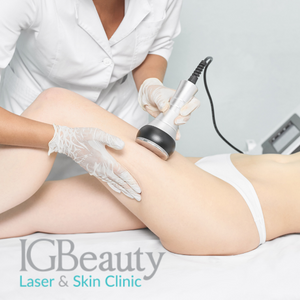 The primary purpose behind body contouring is for fat reduction and muscle firming. However, what sets it apart from other treatments is that there's no pain, no recovery period, and it is entirely non-invasive. From your first session at the skin care clinic, you'll see noticeable results that'll only get better over time. In just the first few sessions, lymphatic drainage is completed already putting long-term body shaping results into motion.
Additional Benefits & Treatment Targets
While the main purpose of non-surgical body contouring is for fat reduction, lymphatic drainage, and muscle firming, it presents many other benefits. This body contouring in Toronto at IGBeauty also helps reduce stretch marks, tighten skin, remove acne scars and hyperpigmentation, and minimize cellulite. You can use this advanced treatment to target various areas of the body, including the neck, chin, arms, glutes, knees, thighs, and back.
How Body Contouring Works
What makes non-surgical body contouring special is that it is non-invasive and painless. By using radio waves to warm fat under the skin — to the point that fat cells shrink — the muscle component of our bodies releases the excess of the liquid and toxins out of our body through lymphatic nodes. Essentially, non-surgical body contouring accelerates the natural fat metabolism with pressure and heat. In addition, this treatment accelerates blood circulation, which helps with detoxing tissue and oxygenation.
About Our TriLipo Med Technology
TriLipo Med effectively targets and treats all four layers of the body: the epidermis, dermis, fat, and muscle. All three pulses rejuvenate the skin and aid in fat loss. Our state-of-the-art TriLipo Med technology at IGBeauty is administered by our certified and experienced skin care professionals, ensuring you have the most comfortable and satisfying experience at IGBeauty. TriLipo Med is a clinically proven, non-surgical treatment that eradicates fat cells and has become one of the better options among body contouring treatments available.
Why Explore Body Contouring in Toronto at IGBeauty
If you want to feel the best in your body and target various areas, then non-surgical body contouring is for you. Not only will you be ecstatic with the results, even after your first session, but you can carry on with your day following each treatment. Non-surgical body contouring is a walk-in walk-out procedure, so you're able to carry on with errands and activities.