Regular application of sunscreen is key to maintaining youthful skin. Sunscreen or SPF is important for daily health and maximizing results from treatments at skin care clinics in Toronto. While sunscreen can often be viewed as a hassle, there are endless benefits to incorporating it into your daily skincare routine. Even if it's a cloudy day, it can still protect your skin from skin cancer from UV rays. At IGBeauty, we strongly encourage the use of sunscreen on an everyday basis, but especially after our treatments, like microneedling in Toronto, to promote proper healing. We are a skin care clinic that prides itself on providing the best care for our patients. With the proper knowledge and training, our patients leave the clinic satisfied.
Learn more about how important sunscreen is below.
Protection from UV Rays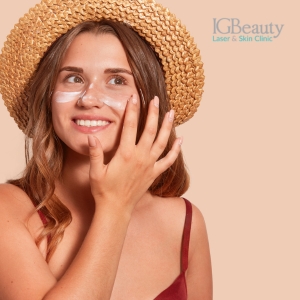 Who doesn't enjoy the warm sun on their skin on a summer day? Though it's comforting and relaxing, the UV rays can have a significant impact on your skin, negatively. The results of unhealthy sun exposure can be photodermatitis (rashes caused by an allergic reaction to the sun), premature aging, sunburn, or skin cancer. Skin cancer is very prominent in older people; however, you can help reduce your risk by applying sunscreen with at least SPF 30. When spending significant time outdoors, reapply sunscreen throughout the day. By starting this regimen early in life, you can prolong the life of your healthy and young-looking skin.
Reducing the Risk of Hyperpigmentation
If you are unfamiliar with hyperpigmentation, you may know it as sunspots, freckles, or age spots. They are commonly caused by extended periods of sun exposure and inappropriate protection from the sun. The science behind hyperpigmentation is the overproduction of melanin in areas of the skin. There are methods of removing hyperpigmentation, such as microneedling in Toronto, by incorporating a good SPF during your treatment you can preserve your results, protect your skin, and feel youthful for longer. For recommendations on the best sunscreen options, consult with specialists at IGBeauty.
Sun Protection for All Skin Types
No matter your skin type or tone, it's essential that you protect your skin from the sun. Over the years, there have been significant changes regarding the different types of sunscreen. No need to worry about the white cast or the consistency of the product, as there are endless options to suit your skin type. Companies have created tinted sunscreen to remove the worry of a white cast, and others have created sunscreen with a lighter feel and less oily. With the endless formulas created, you can find the best solution for you, with different levels of SPF as well.
Prevent Premature Aging
The sun has a way of aging the skin far beyond its years. The UV rays produced by the sun can accelerate the breakdown of collagen in the skin, ridding the skin of elasticity and firmness. This eventually results in wrinkles and sagging of the skin. Protect your youthful skin with sunscreen and add that extra barrier.
Protect Your Skin with IGBeauty
Here at IGBeauty, we offer a wide variety of sunscreens and other skincare products that help protect you from the sun, from dermatologist-approved brands like Zo® Skin Health, Biophora and Elta MD. Our professionals are trained technicians to inform and help you protect and care for your skin. With a plethora of services, from laser hair removal to cosmetic injectables, we have what you need to feel and look your best. Contact IGBeauty today to start your journey to get to optimal confidence.