Don't you wish you had beautiful and radiant skin all year round? Fall can wreck havoc on your skin. Even though chilly fall weather can give your face a nice rosy and flushed appearance. As temperatures dip down and the weather become harsher this can take its toll on your skin. In addition cold winds and dry air can strip your skin of its moisture. The cold weather and dry air can eliminate your skin's natural oils. As a consequence your skin can become dryer and more prone to irritation.
Fall weather can aggravate skin conditions
In addition, harsh fall weather can aggregate certain skin conditions such as eczema and psoriasis. Your skin can become itchy and painful. At the same token the extreme weather conditions can make your fine lines and wrinkles appear more visible. Fortunately, there are steps you can take to reverse these skin issues.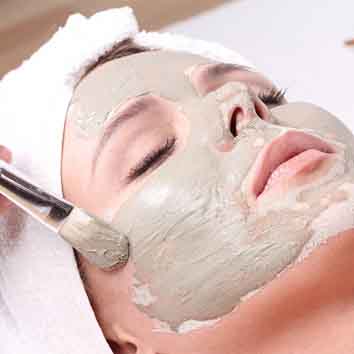 At IGBeauty we have a number of facials that can make your skin glow like it does in the summer. With these fabulous facials your skin will look and feel healthy again. Our treatments include: deep cleansing facial, acne treatment facial, anti-aging facial and multi-vitamin facial.
Facials to help relieve fall skin conditions
Deep Cleansing Facial
Our deep pore-cleansing facial is especially designed to stimulate blood circulation. Good circulation is ideal for healthy skin, especially on your face. Poor blood circulation can cause blotchy and uneven skin tone. Therefore increasing facial blood circulation will improve your complexion and provide you with a more youthful look.
First the treatment starts with a thorough cleansing and exfoliation. Then it follows by the ozone facial steam. This is designed to help blood circulation, open pores and give your skin much needed oxygen. When the skin becomes more relaxed it will regain its moisture and that beautiful youthful look. To finish of the treatment your clinician will remove excess oil and sebum. Excess sebum can contribute to developing acne. This happens when hair follicles become clogged up with oil and dead skin cells. Your clinician will also remove skin blockages, blackheads and whiteheads. Our deep cleansing facials will make your skin glow with more radiant and healthy looking skin.
Acne Treatment Facial
Acne is a chronic skin disease that causes inflammation of the skin. This results in visible whiteheads, blackheads, pimples, cysts, and nodules. Our skin contains pores that connect to oil glands underneath the skin via follicles. These follicles are small sacs that produce and secrete sebum. When these follicles get blocked and oil builds up pimples start to appear.
At IGBeauty Studio we have designed treatments that effectively address many acne related issues. These include acne prone skin, oily complexion, over production of sebum, congested skin and blemishes. We use such modern technology as blue light therapy, galvanic therapy, Jet Peel treatments, high-frequency treatments, peels, ozone therapy and other cosmetic solutions.
Our Jet Peels offer you a non-invasive and painless skin rejuvenating treatment. They are also 100% natural. We find that they are a perfect solution for visibly improving skin tone and texture. In addition they will remove dead skin cells that contribute to acne breakouts. They work by releasing deep penetrating jet streams that will moisturize your skin. Jet Peels also infuse your skin with much needed oxygen deep into the dermis of the skin. These fast acting facials that make your skin glow are an effective way to treat acne prone skin.
Our other skin peel procedures use various exfoliating and abrasive solutions that will remove layers of damaged or dead skin surfaces. Therefore they are ideal to treat acne prone and acne scarred skin and tissue. At IG Beauty Studio our skilled estheticians will ensure you have beautiful results with no unwanted side effects.
On the other hand our Deep Cleansing Facials are geared towards anyone wanting to have a clean and exfoliated skin. These procedures are perfect solutions to promote healthy blood circulation, keep your pores clean and to provide more oxygen to your skin. They are especially effective in dealing with acne related skin issues. At IGBeauty Studio our professional staff will tackle such problems as excessive sebum oil, blackheads, whiteheads and any other difficult acne pimples.
Anti-Aging Facial
Would it be amazing if you could turn back time, reverse the signs of aging and bring back your younger looking skin? At IGBeauty we have a perfect treatments to do just that. In fact these treatments are so effective they can benefit all skin types. Our anti-aging facial treatments will make your skin glow again. They work by improving your skin tone and texture and reducing the appearance of fine lines and wrinkles. These anti-aging facial treatments are designed to give you the face-lift effect without having surgery. They are an ideal solution to restore your skin's radiance and give you a much smoother, fresher and younger appearance. For best results we recommend at least 4 sessions.
Multi-Vitamin Facial
Are you tired of your dull and lifeless looking skin? Would you love to restore your skin's natural and beautiful looking skin tone? At IGBeauty we offer facials that will make your skin glow. Our Multi-Vitamin facials are the ideal treatments to bring out your skin's natural radiance. They consist of a healthy blend of vitamin A and C as well as very active alpha and beta hydroxy acids.
Vitamin C (ascorbic acid) has been used to even out skin tone and to eliminate skin spots. It also creates younger-looking and firmer skin. On the other hand Vitamin A contains beta-carotene, which helps your body fight against free radicals that break down collagen. Lack of collagen contributes to the appearance of fine lines and saggy skin. Beta hydroxy acids are able to penetrate deep into the pores containing sebum, and thus help to exfoliate the dead skin cells inside the pores.
Our Multi-Vitamin treatment can bring out your skin's natural glow and restore the smoothness of your skin. This treatment is so effective that you can see visible results after the very first session. Our unique blend of vitamins and hydroxy acids will remove all the dull debris from your skin and stimulate new cell growth. As a result your skin will regain its elasticity and you will see improved skin tone and texture. For optimal results we recommend a series of 4 sessions.
Our staff at IGBeauty will work with you to customize a treatment that's right for you. The treatments we offer are easy, quick, and virtually painless. They require no down time and can be easily performed during a lunchtime appointment. Feel free to book your customized facial here or call us at 416-484-4884.