Many women find themselves in search of an alternative to bikini and Brazilian waxes, which are often incredibly painful and uncomfortable. In response to the demand for an alternative hair removal option for the body's most sensitive and vulnerable areas, spas and skin care clinics have released a variety of alternative hair removal methods such as electrolysis and waxing, both of which can be harmful to the target treatment area. Some of the most popular hair removal options are sugaring and Brazilian laser hair removal.
Read on to discover how sugaring compares to laser hair removal at a trusted laser clinic in Toronto.
What is Sugaring?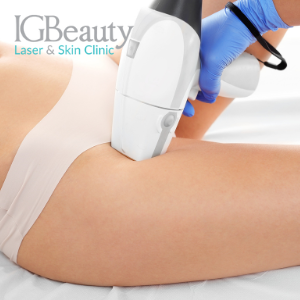 Sugaring is a type of waxing done with a natural sugar paste usually made of lemon, water, and sugar that is spread across the skin in the opposite direction of hair growth and pulled back in the other direction. Typically sugaring is messy during cleanup but can be done at home. Unfortunately, cleanup can be quite messy due to the sticky nature of the paste. When sugaring is done on your own, it can often leave some hairs behind and require tweezing or shaving for a complete finish. Sugaring for Brazilian hair removal is less painful than traditional waxing since the wax does not adhere to the skin. However, since the hairs are being pulled from the follicle, there is still a significant amount of pain reported, depending on your personal pain tolerance.
What is Brazilian Laser Hair Removal?
Essentially, laser hair removal is permanent hair removal that uses concentrated light to target hair follicles and kill them to minimize and eventually eliminate hair growth. Brazilian laser hair removal at a laser clinic in Toronto is a safe and reliable treatment. At IGBeauty, we use equipment that is approved by Health Canada and the FDA. Brazilian laser hair removal is far less painful than waxing options because the hair is not being pulled from the follicle. You can talk to your specialist about numbing agents or prepare with acetaminophen (Tylenol) for those with exceptionally sensitive skin.
Which Lasts Longer?
Depending on your hair growth cycle, sugaring can last a few weeks before completely regrowing but will never permanently stop hair regrowth. Brazilian laser hair removal, on the other hand, will help you achieve permanent hair removal after approximately 5-7 sessions. This means that you can skip hair removal in just a few weeks of treatment altogether. Some customers report seeing a reduction in hair growth after just the first few sessions.
Custom Brazilian Hair Removal
While the name Brazilian hair removal implies total hair removal, it's not uncommon for customers to want partial hair removal. It is often difficult to customize your hair removal with sugar waxing, but with laser hair removal at a laser clinic in Toronto you can get precise results. At IGBeauty, we can precisely shape your hair according to your preferences, leaving a strip of hair, a triangle, or any other shape you'd like, using our advanced and sensitive laser hair removal machines.
A Laser Clinic Near You
If you're interested in Brazilian laser hair removal in Toronto or any other area of the body, IGBeauty is one of the most trusted laser clinics in Toronto. Set up consultations with one of our specialists for all your questions or inquiries.