At-home laser hair removal may sound like a great idea for those who want quick, affordable and permanent hair removal. Although it may seem faster and less expensive to perform laser hair removal at home, removing your hair without professional assistance is not recommended by laser hair removal specialists at laser and skin clinics in Toronto. The best laser hair removal in Toronto requires years of experience, knowledge, and technique, which is why it's not advised to do it at home without adequate experience or training. At IGBeauty, our dedicated team of professionals offers professional laser hair removal services for fast, safe, and effective hair removal for your convenience.
Continue reading to learn why you should skip at-home laser hair removal for best results.
Access Professional Service & Equipment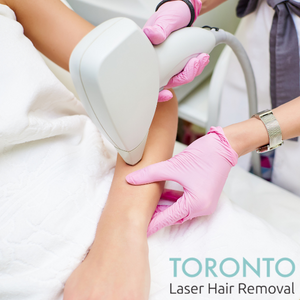 Purchasing an at-home laser hair removal machine may seem more convenient and more affordable, but the results won't be nearly as good or cost-effective as they could be when you visit a trusted laser and skin clinic in Toronto.
At-home laser hair removal machines have a lower intensity and don't offer the same results as professional equipment, so if your goal is long-lasting and complete results, expert experience is advised. At IGBeauty, we use the Light Sheer Duet and the GentleMax Pro laser hair removal machines approved by Health Canada, targeting more areas on the body and providing permanent results. Our team strongly recommends scheduling laser hair removal services with a laser specialist for gentle and fast results.
Ensure Safe Treatments
It's crucial to have experience before performing at-home laser hair removal treatments, as you can risk damaging your skin if you don't know how to time the treatment properly. Without professional training and certification, treatments can result in burns, scarring, hyperpigmentation, redness, irritation, and pain, making the experience unenjoyable.
The Canadian Association of Medical Spas & Aesthetic Surgeons (CAMAS) forbids non-certified operators from carrying out these treatments, meaning that aesthetic nurses and medical estheticians must be trained by qualified institutions or doctors. At IGBeauty, our team of professionals has years of experience, extensive training, and certifications to back up our specialization, so you can trust that we have the knowledge and ability to provide safe and reliable laser hair removal in Toronto.
Optimize Your Laser Hair Removal Results
Most people opting for laser hair removal in Toronto are looking for permanent results that leave the skin looking hair-free and looking smooth. When you visit IGBeauty, you can rely on knowledgeable technicians who use years of experience and training to determine the best schedule for your hair-growth cycle and desired results, whereas with low-power at-home machines results take more time and often end up patchy or uneven.
Professional Laser Hair Removal in Toronto
At IGBeauty, our primary focus is to provide safe and effective laser hair removal services, so our clients can achieve long-lasting, soft, and hairless skin. IGBeauty provides a team of knowledgeable professionals with decades of experience, constantly learning and adapting to new techniques to advance our laser and skin clinic in Toronto.
See the benefits for yourself. Contact IGBeauty today.