Research and technology for skin care have advanced significantly over time to offer greater efficacy and long-lasting results. Mesotherapy in Toronto is a skin care treatment that allows a practitioner to deliver high-grade active ingredients in the deeper layers of the skin through thousands of controlled microinjections to treat various skin conditions. The results are transformative. Mesotherapy for the face is an effective treatment for acne, fine lines and skin tightening. Mesotherapy for hair has also become a popular treatment to treat hair loss. IGBeauty is a skin care clinic in Toronto that utilizes mesotherapy to assist their clients in achieving their skin care and hair care goals.
Mesotherapy for the Face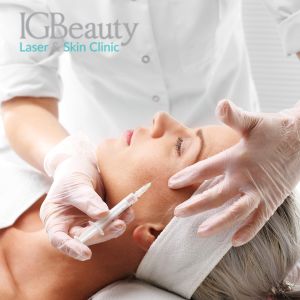 Mesotherapy offers profound results in the fight against aging skin. Mesotherapy for the face is more effective than topical creams and treatments as the active ingredients such as hyaluronic acids, vitamins and amino acids are delivered into the epidermis and dermis. Once these ingredients are injected, the tissue will be impacted immediately and continue to circulate and diffuse into the tissue for several weeks. Mesotherapy helps flush out toxins that contribute to aging and treat various skin issues, such as hyperpigmentation, sagging skin, and wrinkles. IGBeauty also offers Fractional Mesotherapy, with The eDermaStamp by Dermaroller, which combines mesotherapy with microneedling, which significantly reduces signs of aging and brings a beautiful glow to the face. Mesotherapy is also being sought out as an alternative treatment for dermal fillers.
Mesotherapy for Hair and Hair Loss
Since mesotherapy delivers a range of healthy vitamins and highly active ingredients, this is an excellent treatment for the scalp to improve hair and reduce hair loss. Through mesotherapy, a specialist can inject peptides, vitamins and platelet-rich plasma into the scalp, which has been shown to help reduce hair loss. Mesotherapy helps to infuse nutrient-rich ingredients in the scalp, increase circulation and reduce inflammation. If you recognize you are suffering from alopecia or thinning hair, then mesotherapy might be the solution you need.
Mesotherapy for Different Areas of the Body
Mesotherapy is a versatile treatment that can be safely used almost anywhere on the body. Beyond skin tightening, hyperpigmentation, fine line, and wrinkle reduction, mesotherapy for the body This offers treatment for stretch marks, scarring on the body, cellulite body treatment, edematous type of cellulite, adipose cellulite and localized fat deposits. People often seek mesotherapy for the face, decollete, hands, or thighs. At IGBeauty, our specialists use the U225 injector by Needle Concept, the most advanced mesotherapy injector technology on the market and is excellent for sensitive areas around
the face and body.
IGBeauty is a Leader in Mesotherapy Treatments
IGBeauty is committed to continuing education and learning about the best skin care treatments on the market. Mesotherapy is excellent as both a stand-alone treatment or combined with various other treatments. We use Health Canada and FDA-approved technology for mesotherapy. Let our experienced specialists customize a treatment plan for your skin. We offer over 10 years of experience in medical aesthetics with a team of experienced professionals to help you achieve your skin care goals.
Contact IGBeauty now to begin your journey with mesotherapy.