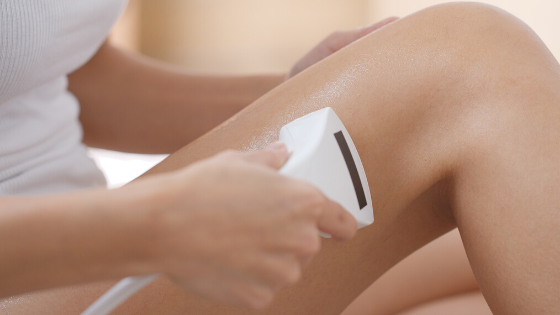 Laser hair removal is consistently gaining traction as the permanent hair removal method. Since it first was launched in the market under doctor–led aesthetic services, it has become more mainstream, and is now routinely offered in clinics throughout Canada.
It has also become more affordable, with clinics having a wider choice of laser hair removal devices to choose from, and the price of what has become an established technology decreasing with more devices being made and available.
With it, home treatment laser hair removal devices have been available to buy for some years now. Many people want the convenience of being able to enjoy a course of laser hair removal treatment, without the need to commit to regular clinic appointments.
The Benefits of At-Home Laser Hair Removal
The availability of good quality laser hair removal devices for home use means that for some, it is the ideal and convenient option. Being able to treat areas of hair that need removing from the comfort of your own home, without having to undress in a clinic with a practitioner you do not know has its advantages for those who are not comfortable in those situations.
The cost too, is also a factor. A single-time purchase of a home-use laser hair removal device can be seen to be a great value treatment option. It can work out to cost less than a course of in-clinic treatments, particularly if you are looking to treat multiple areas.
The Drawbacks of At-Home Laser Hair Removal
The majority of at-home devices are actually IPL machines. These devices, while they can be successful for some laser hair removal skin types and hair types, do not have the same power as in-clinic lasers. They also require replacement cartridges after a certain number of uses, which are costly to replace. These 'laser' hair removal devices cannot be used on dark skin and they can be painful to use, with limited results, as of course, they are not as powerful as in-clinic laser hair removal machines. They are also not suitable for use on more sensitive areas of the body, and can burn the skin, causing issues with hyperpigmentation.
It goes without saying that more expensive home devices can be a costly investment, and not everyone can afford to make such a substantial one-time purchase
Even the non-IPL devices have their drawbacks, such as a very small treatment head, which requires multiple uses to treat even small areas. Many report a short battery life, which means that for treating large areas, multiple sessions may be required. The replacement cartridges are also expensive. Again, these are not as powerful as clinic lasers, and usually will require more treatment sessions to obtain the same results.
One major drawback for the majority of these machines is the 'ouch factor' – they can span between the mildly uncomfortable to the outright painful, especially on more delicate areas, such as the face or bikini line.
Choose Professional Laser Hair Removal with IGBeauty Laser & Skin Clinic
Finally, the one thing that should never be discounted is that laser hair removal performed in a trusted clinic such as IGBeauty Laser & Skin Clinic is carried out by a specially trained professional. Our technicians have specific expertise in performing the treatment and can not only tell you what to expect, but also deal with reactions immediately.
At home you may be an expert in many things, but not many people are expert in laser hair removal, and the time that is no more apparent than if anything should go wrong. And a laser hair removal device in the wrong hands, on the wrong skin type, in the wrong area can have significant consequences. At IGBeauty Laser & Skin Clinic, with trusted trained technicians and FDA, Health Canada approved devices, you know your wellbeing is in safe hands.