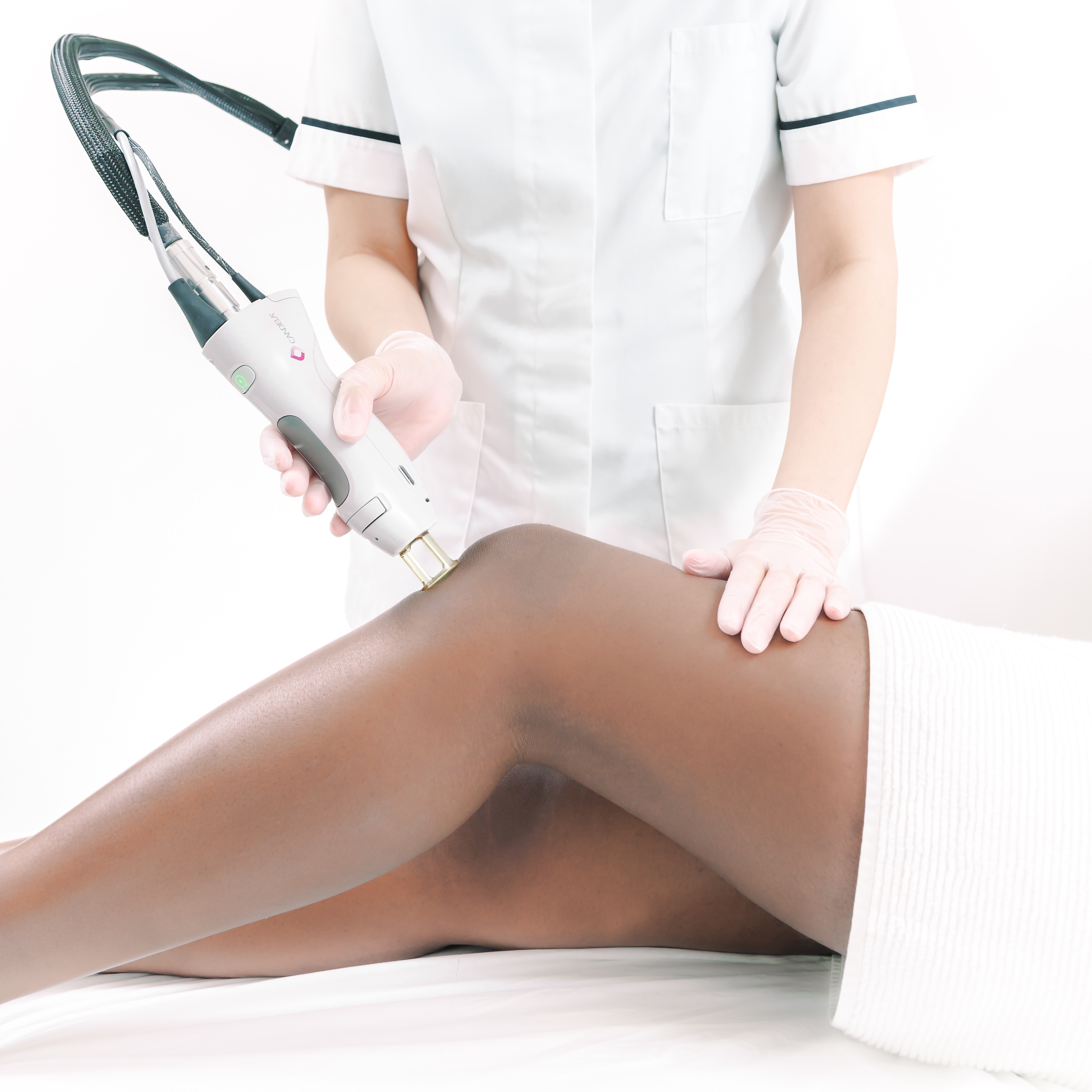 There's a way to remove hair - pain-free in Toronto, and no, it doesn't require waxing, shaving, or plucking. It's laser hair removal, and it will leave you feeling silky smooth. Laser Hair Removal in Downtown Toronto is non-invasive, effectively targets your hair follicles, and only takes 5-7 treatments per area. Sounds impressive, right? Laser hair removal technology has come a long way, and now machines offer virtually painless treatments, with minor side effects (they even cool your skin during each pulse)!
Advanced laser hair removal technology in Toronto produces pain-free results
No scars, no blistering, and no numbing cream needed. Innovative advancements of laser technology have made this procedure the go-to painless hair removal treatment.
You probably wouldn't walk out from a waxing appointment calling your treatment "comfortable," but many leave laser appointments saying just that.
Here's how laser technology works and why its painless
The LightSheer® Duet™ laser has an ET sapphire cooling handpiece called ChillTip™, which protects the skin from overheating and reduces pain with its cooling sensation throughout the treatment. This device is not only safe and effective, but it is Health Canada and FDA approved for long-term hair removal. The HS handpiece is equipped with a vacuum tip that stretches the skin to maximize the light absorption from the laser while minimizing any painful sensations to your skin. When the light energy hits the hair follicle, it destroys the follicle from producing any more hair.
GentleMax PRO® by Candela™ has 2 different lasers
The Alexandrite 750 nm laser treats lighter hairs and lighter skin, or darker hairs on lighter skin.
However, the Nd:YAG 1064 nm laser can effectively remove dark hair on dark skin. This type of laser has the ability to bypass epidermis pigment of darker skin types and safely target only hair follicles. This process effectively removes the hair from the low contrast combination.
Both technologies are equipped with DCD cryogen cooling devices that produce "cooling bursts" between each pulse, providing a painless and comfortable treatment.
Are there side effects?
While this treatment is virtually considered pain-free, it is possible to experience redness, swelling, or irritation post-treatment. However, these symptoms will subside within 24-48 hours of treatment and are completely manageable!
How many treatments until you are hair free?
Depending on the area, the thickness and colour of your hair, and how committed you are to your laser appointment schedule, you should only need 5-7 treatments per area. Some areas may take longer if the hair is thinner or there is less contrast between the skin colour and hair colour. That being said, as you learned above, there are different lasers to target different hair colours and skin colours.
Why should you choose IGBeauty for pain-free hair removal?
When deciding on your clinic for laser hair removal in Toronto, you should go with the best. Choose a clinic that takes your safety seriously, uses FDA and Health Canada approved lasers, like IGBeauty. They will work with you one-on-one to choose the laser with the best results for your skin colour, hair colour, and hair density.
Contact IGBeauty for painless laser hair removal in Toronto.