Hair loss is a process that affects everyone at some point in their lives. It can be embarrassing, overwhelming and emotional for many people, making it difficult to start a conversation with your physician, health care provider or aesthetician. Both men and women are affected, and hair loss often begins earlier than people anticipate. Unfortunately, this means that many people end up searching for years to find a preventative or curative treatment for their progressive hair loss. Creams, ointments, implants, wigs, pills; many options currently exist, but how do you know which is the right one for you? Currently, two therapies are gaining in popularity as a treatment for hair loss: mesotherapy and PRP therapy. Both treatments involve microinjections at affected sites in order to stimulate hair growth and reduce the visible signs of hair loss. In this blog post, we will discuss the main differences between PRP therapy and mesotherapy and how you can determine which treatment is right for your needs. At the end of the blog post, we will also discuss how you can contact IGBeauty Laser & Skin clinic to book a consultation and start your journey to restored hair growth.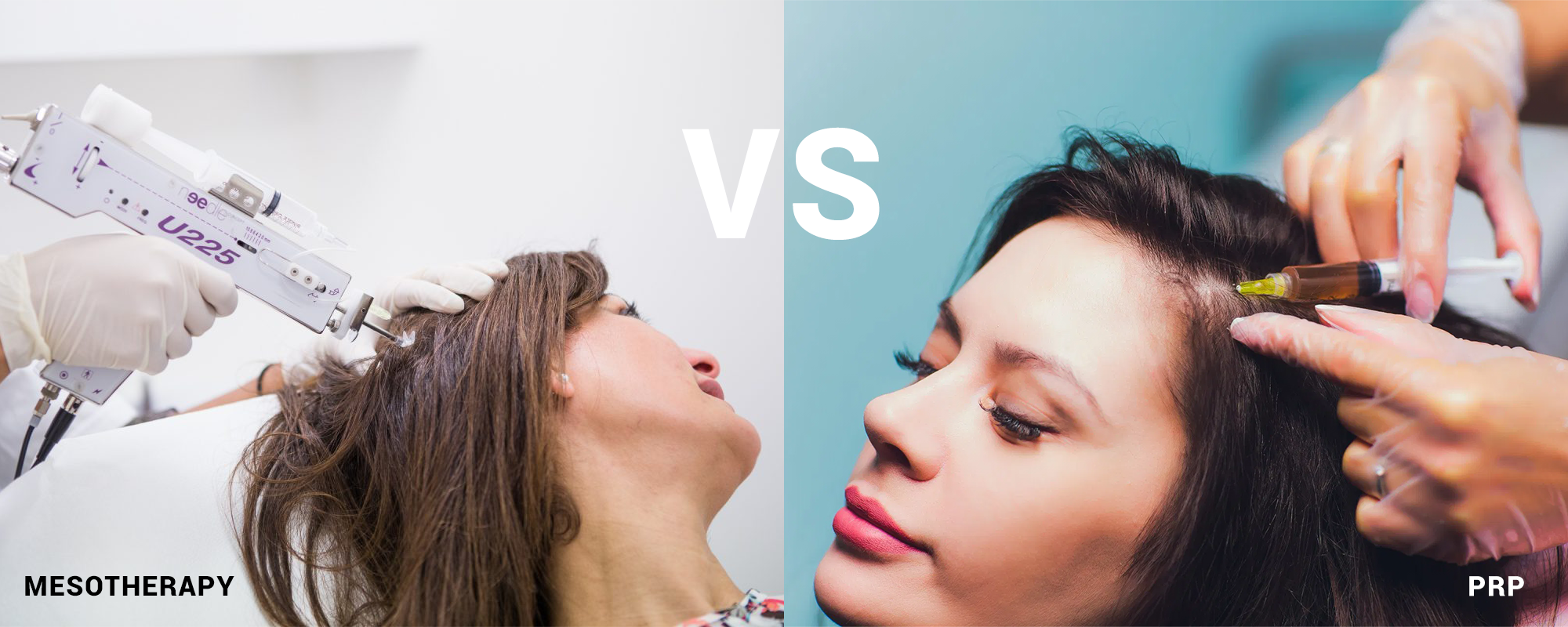 What's the difference between PRP and mesotherapy?
Both PRP therapy and mesotherapy are cosmetic techniques that can have a variety of aesthetic benefits. In terms of hair loss, both treatments have been shown to effectively improve hair growth in patients with varying degrees of visible hair loss. Mesotherapy involves treating the scalp with vitamins and beneficial nutrients, then using microinjections to deliver the compounds to the deeper layers of skin. This technique allows for optimal absorption and maximized benefits from the vitamins, microelements, and various other growth factors, as they can reach the deeper layers of skin to efficiently boost hair growth. PRP stands for Platelet Rich Plasma therapy and involves extracting blood from a patient and then injecting it back into the scalp at sites where treatment is necessary.
Does mesotherapy help hair growth?
Mesotherapy can be used to treat a variety of cosmetic conditions, including scars, acne, stretch marks, hyperpigmentation, wrinkles and skin tone issues. The therapy works by delivering a combination of hyaluronic acid, growth factors, peptides, vitamins, minerals, and other compounds delivered directly into the skin through microinjection to optimize their benefits. Mesotherapy can be used as both a stand-alone treatment and for multiple treatments as part of a series of procedures to maximize results. It is effective at treating hair loss that is caused by genetic reasons, or other causes such as chronic illness, stress, or diet. This is due to the improved absorbance of key nutrients and compounds through the microinjection procedure. Results are also maximized by completing a series of procedures over a course of several months.
Which is better: mesotherapy or PRP?
Both mesotherapy and PRP therapy have different benefits depending on the type of condition you are trying to treat. There are several key differences between the treatments, starting with what they are injecting into the scalp. Mesotherapy involves injecting vitamins and minerals into the scalp, whereas PRP involves injected platelet-rich plasma directly from the patient. As well, PRP can be injected into any layer of skin, but mesotherapy can only be used to inject compounds into the mesoderm (middle layer). In general, mesotherapy requires approximately 5-8 sessions, whereas PRP often requires a few additional sessions (usually between 7-10). These sessions also differ in their length, as mesotherapy requires approximately 30-minute sessions, where as PRP treatment usually requires sessions that are about an hour in length. Finally, PRP often costs more than mesotherapy. In general, both therapies can be effective at treating hair loss and in fact you can often maximize your results by combining both types of treatments. Both therapies are safer and less expensive than hair transplant surgery, however, PRP is very often used right after hair transplantation surgery to speed up a healing process. Mesotherapy can be used to maintain good results after hair transplantation. We recommend talking with one of the experts at IGBeauty Laser & Skin clinic about which option best suits your needs.
Does PRP make hair thicker?
Many people are pleasantly surprised by the natural looking results of PRP therapy. Because PRP is proven to help hair follicles remain in a growth phase, this results in hair growing thicker and longer, both promoting new growth and strengthening any existing hair follicles. Of course, if this is combined with mesotherapy treatments, you can maximize your overall hair growth results. For example, in cases where a person does not have enough vitamins and microelements in their body, PRP alone may not work very well. In these cases, a combination with mesotherapy is the best treatment protocol to add vitamins, growth factors and microelements directly to the roots of the hair, and allow PRP to be more effective
Which is more cost-effective?
Depending on your desired results and the extent of your hair loss, the number of sessions you require for either treatment will vary. In general, PRP sessions can be more expensive. In order to learn more about your options and what will be most effective for your hair loss, contact our expert team at IGBeauty Laser & Skin clinic in the Greater Toronto Area.
If you are experiencing hair loss, or are concerned about hair loss in the future, advanced therapies are available to help stimulate new hair growth. Both mesotherapy and PRP therapy offer safe, non-surgical and effective treatments for hair loss. Although both therapies can deliver dramatic results, they do differ in their cost, treatment length and the type of solution microinjected into the scalp. In this blog post, we addressed some of the main differences between the two types of treatments. However, if you still have unanswered questions or are looking for additional information on either mesotherapy or PRP therapy, look no further than IGBeauty Laser & Skin Clinic. By booking a consultation with our expert team, we can help you determine which treatment is best suited to meet your desired aesthetic goals. We can also help walk you through the treatment process from consultation to long-lasting results. Contact our team at 416 484 4884 to book your consultation today. There is no better time than now to begin your journey towards increased self-esteem and a boost in your confidence.