Hair removal is often painful, especially with the most common method being waxing. Waxing pulls on the skin in the most sensitive areas of your body, and while it does control hair growth, it's a less than ideal option for hair removal. If you're interested in seeking other hair removal methods, Laser hair removal in Toronto at a trusted laser skin clinic is a viable alternative. While it's far less painful and irritating than typical hair removal tools, Brazilian laser hair removal may cause minor temporary discomfort. However, there are ways to minimize sensitivity and manage any irritation.
To get the hairless results you want, here are some tips for coping with sensitivity.
Tylenol Before Treatment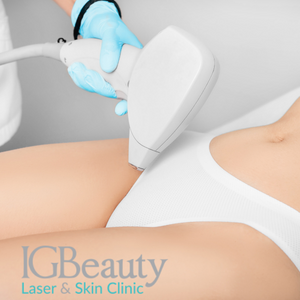 If you tend to be susceptible to pain and irritation, consider taking Tylenol before heading into your session. It's imperative that when you take pain relievers, it must be acetaminophen, like Tylenol. If you were to take anti-inflammatory painkillers like ibuprofen or naproxen i.e. Advil or Aleve — they can cause extra bruising or irritation. To minimize sensitivity during your visit at IGBeauty, laser skin clinic in Toronto, numbing creams are available at an additional cost.
Wear Loose Cotton Pants and Underwear
When you come to your Toronto laser hair removal appointment, wear free, loose-fitting clothes. Opt for linen pants or cotton underwear to help your skin breathe. You don't want to further aggravate your skin with tight clothes, like jeans or leggings. Following your first laser hair removal appointment, it's a good idea to continue to wear loose and free-flowing clothes to keep irritation at a minimum.
Avoid Caffeine and Alcohol
Caffeine and alcohol may cause inflammation, making your skin more susceptible to pain and irritation. While caffeine and alcohol consumption won't affect you on a normal day, it may cause more discomfort during your laser hair removal session. To keep sensitivity to laser hair removal at a minimum, avoid caffeine and alcohol for at least 24 hours before you head to your appointment.
Shave the Area in Preparation
Shaving the treatment area affected by laser hair removal helps the laser reach the hair follicle easier. Resist plucking or waxing, and opt for a careful and gentle shave.
Aloe and Ice After Treatment
Use aloe vera and ice after your treatment for a cooling and numbing effect. Ice will numb any possible pain or discomfort and reduce inflammation. Aloe vera will achieve both while keeping the skin smooth and hydrated. To ensure your skin is comfortable and moisturized, using aloe vera in the desired area for three days following your appointment is best.
Schedule a Consultation at IGBeauty
Scheduling a consultation with the specialists at IGBeauty will help you determine if this is the best procedure for you and your body. Our consultations will usually involve questions about your health, details about the process, and any concerns you may have. Brazilian laser hair removal is an excellent hair removal method, but it's imperative that it's the best fit for you.
If you want to effectively remove hair, visit IGBeauty for Brazilian laser hair removal in Toronto.
Schedule your consultation at IGBeauty today.