If you are troubled by unwanted scars, you may be wondering about laser scar removal clinics in Toronto. Laser scar removal clinics do exist, and the technicians use a safe method of scar removal to rid you of those unseemly blemishes. Scarring happens to most of us; however, the removal process is worth it.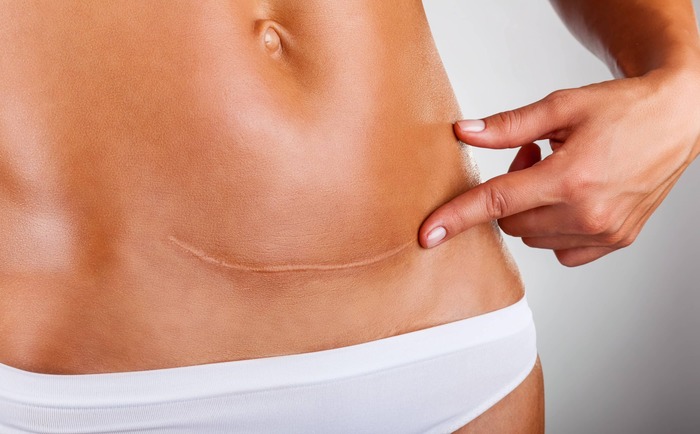 Laser scar removal in Toronto: Why does scarring occur?
Our bodies have a natural healing process to help us recover from everything from common colds to slips and falls to surgery. We scar because our body forms a barrier on the outside of the skin to allow us to heal from whatever trauma we've experienced. The outer layer of our skin (the epidermis) works in tandem with the under layers (dermis and hypodermis) to replace damaged tissue with new tissue. Although it comprises the same proteins as regular tissue, this new tissue is raised and thick.
Scar types: Can all scars be removed?
Most scarring can be removed through laser scar removal procedures in Toronto. There are different classifications of scars because different factors cause each type.
The types of scars that can be removed are:
Acne scars – very commonly treated at laser clinics
Ice pick scars - narrow, deep scars that form in open pores and leave their mark deep below the epidermis
Boxcar scars – atrophic and wide acne scars
Rolling scars – shallow, wide rows
Atrophic scars – flat and thin
Keloid scars – these scars form when your body works too hard to heal
Hypertrophic scars – raised scars akin to keloids
Contracture scars – caused by burns
Stretch marks
Pricing: How much does Laser Scar Removal Toronto cost?
Because treatment involves FDA and Health Canada-approved laser technology, the pricing varies depending on the type of scar you wish to have removed and how many treatments are needed. Smaller scars (an inch or less) cost approximately $200-$300 to be removed. Some scars, for example, are complex and need aggressive treatment that can run you about $1,800. Furthermore, a complete laser scar removal package will include charges for your skin care professional's fees, anesthesia and facility costs. You can also couple your laser scar removal with another cosmetic procedure, like a chemical peel. Laser scar procedures are considered cosmetic and are not generally covered by insurance. But, you can pay in installments as most clinics offer payment plans.
Laser treatments: Which works best for scar removal?
Two lasers can be used. Each is FDA and Health Canada-approved, safe, and must be used by a trained skin care professional.
ResurFX™ Fractional Laser: Collagen is a natural protein in our skin and tissues. As we age, collagen production slows down. This laser stimulates collagen production deep within the layers of our skin, causing the scar tissue to break down. Not only does the ResurFX™ Fractional Laser create noticeable, long-lasting scar removal, it also helps rejuvenate the skin.
Lumenis M22™ IPL: This laser is used to treat redness and post-trauma hyperpigmentation.. Using photo-rejuvenation technology, the Lumenis M22™ IPL (IPL stands for intense pulsed light) can get rid of scarring and other undesirable skin problems such as rosacea while improving your skin's tone and texture.
Getting your skin back to perfect:
What are the pros, cons, and aftercare associated with laser scar removal in Toronto?
Even the best makeup cannot fully cover scarring. With laser scar removal, you are awarded numerous benefits that you'll be able to see after just one session. The laser removal process will restore your skin and your self-esteem.
Besides making you feel better about yourself, the other benefits of laser scar procedures are:
Quick and effective treatment – in just one session, your scars will be less visible
The discomfort is minimal – most people report that they feel nothing more than a pin prick on their skin
No recovery time needed – with a surgical procedure you will have to take time off work to rest. After laser scar removal you can resume your daily activities as if nothing happened. In fact, treatment is done on an outpatient basis and there is no waiting in a recovery room when you're done.
Accuracy of the technology – lasers are more accurate than surgical tools allowing the technicians to make short, shallow cuts that do not damage your tissues
Recurrence of scarring is prevented – laser scar removal ensures that the treated area has no chance of re-scarring
There are risks associated with laser scar treatments, although they are not experienced by everyone:
Pain – most people who receive laser scar treatments say they only experience mild discomfort during their procedure. However, if you have a low pain threshold you may find the treatment painful
Swelling – the treated area may be red and swollen in the days following your treatment
Infection – those that are prone to infections could find themselves dealing with one after their laser procedure, however infection is rare if you keep your scar clean and follow post treatment protocol
Breakouts – people with sensitive skin that is prone to acne may experience breakouts following scar removal
Sensitivity to the sun – you will need to stay out of the sun in the weeks following your procedure because the treated area could burn. When you've healed, you must remember to wear sunscreen
The aftercare for laser scar therapy is simple:
Wash the treated area with mild soap before towel drying it
Apply the antibiotic ointment given to you by the skin care technician (you may also be given a prescription for antibiotics from a dermatologist if you are prone to infections)
Place a bandage over the treated area
You may be given medicated ointments or a cool mask for your skin
You can take pain medication like Advil if the area is sensitive and swollen (ask your skin care clinic what they recommended)
Your skin will begin its own healing process about three days after your treatment, and you will be asked to return to the clinic for a follow-up exam in about 6-8 weeks.
Laser scar removal Toronto treatments do work. Scarring can fade, making the area more aesthetically appealing and creating a better skin tone and texture. Please contact IGBeauty for more information about our laser scar treatments. You don't have to live with scarring any longer!