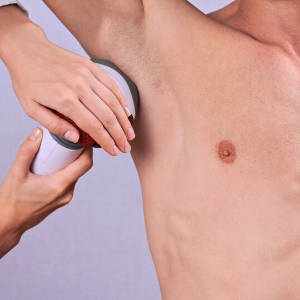 The verdict is out - women aren't the only ones who want to get rid of unwanted hair. In fact, laser hair removal for men is becoming increasingly more popular. Just like women, hair preference depends on the person and how they feel. While some men prefer to keep their hair, some super-hairy guys want to groom theirs. Regardless, the continual upkeep of waxing, trimming, and shaving can become tiring very quickly. Keep reading to find out how laser hair removal works for men and what areas to get treatment on.
Laser Hair Removal For Men: How Does It Work?
There's no secret here. We use the same devices and safety protocols for men and women. However, men have different preferences than women in which areas on their bodies that they want to be hair-free. Whether you have light skin, dark skin, light hair, or dark hair, Laser Hair Removal for men works the same way it does for women. At IGBeauty, we always want to give our patients the most effective results and treatments personalized to your needs.
The laser beam targets the hair follicle and continually damages it from producing any more hair. After 5-7 treatments, the follicle will no longer be able to grow hair, and you become hair free in that area.
What Areas Can You Target?
Men can request laser hair removal on any part of their body, but here are some of the most common areas for laser hair removal treatments for men.
The Manzilian
This treatment is designed to help men with excessive hair growth in the pubic area. Waxing or shaving this area can cause irritation, and can even be dangerous. Laser hair removal allows men to choose exactly how they want to customize their pubic hair, allows for easy maintenance, and the removal of hair over time with minimal pain. Other areas included in the manzilian may include, lower back, stomach, groin, and buttocks.
Men's Facial Hair
Certain men may be faced with extremely thick hair on their faces. Even after shaving, oftentimes this thick hair is never fully removed and grows back extremely quickly. After just a few short sessions of laser hair removal for men on their faces, there will noticeably be less hair and fewer ingrown. Popular areas of laser hair removal for men include beard, and mustache, nose, neck, between the eyes, the head if men want to go bald, and ears.
Full Body Hair Removal
If men aren't looking for a specific area of hair removal, they may opt for the full body. For those who either model, athletes, or are bodybuilders often request for more laser hair removal as it is easier to deal with. Common areas include back, stomach, chest, legs, and any other area.
Get laser hair removal done in downtown Toronto at IGBeauty Laser & Skin Clinic
With laser hair removal for men, you no longer have to worry about shaving or waxing again. After 5-7 treatments you will be hair-free! No more ingrowns, waxing, or razor bumps.
IGBeauty is ready to provide you with your laser hair removal treatment in downtown Toronto. Whether you want one small area of hair removed, or want to remove hair from your entire body. Our staff is dedicated to providing you with the best treatment possible. We are a fully certified laser clinic in downtown Toronto, and we only use FDA and health approved lasers. Save time, manscaping, and book a consultation with IGBeauty to learn more about our laser services and the best solution for you.