At first glance, Toronto laser hair removal costs can seem like quite a heavy investment. When considering if the investment is worth it against all other items competing for your budget, you need to consider your overall goals and take stock of your current situation and why you seek permanent hair removal results. Laser hair removal in Toronto is a popular option for various people. In some cases, shortly after shaving, hair begins to return the same day; this can be really burdensome over time. For others, even after they have shaved, dark hair may still be visible just under the skin. Everyone has a different reason to explore laser hair removal treatments, at IGBeauty we offer complimentary consultations to help provide you with insight into the laser hair removal results.
To learn more about why laser hair removal in Toronto is worth it, read on.
How Laser Hair Removal Costs Compare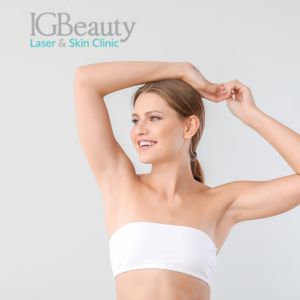 In most cases, even if some people do not commit to laser hair removal, they often explore some other form of hair removal. Whether investing in quality razors so you don't face nicks and cuts or waxing strips from a pharmacy, there is always an associated cost with hair removal. But even with the best razors or waxing techniques, the process of traditional hair removal is typically painful and ineffective.
When judging laser hair removal costs against other options, you need to assess the frequency of treatments. It's also important to note that laser hair removal generally only requires 5-7 treatments for optimal results. So you would look at the higher front-loaded cost compared to getting your body professionally waxed or the do-it-yourself option or shaving costs and add them up for the rest of your life.
Time Lost and Pain
Alternatives to laser hair removal in Toronto can often take considerable amounts of time and require greater frequency. So you may have one laser treatment in a month but may need to shave daily or on alternate days to maintain results or get waxed twice a month. This can take up a lot of time in the long run. Waxing and threading can be a painful approach to removing hair from the body and/or face, especially compared to laser hair removal, which is painless and leads to permanent results.
Laser hair removal can save you a tremendous amount of time over the long run and from enduring painful hair removal treatments for many years.
Increase Your Convenience
Another aspect of a laser hair removal investment is the convenience of the treatments. Not only do they save time, but they prevent ingrown hairs, nicks, and bruising. Another huge plus is that there is no painful or uncomfortable stubble to contend with when the hair grows back. The body remains smooth and hairless for an extended period until the hair gradually grows back. Laser hair removal saves you from worrying about these other details and issues.
IGBeauty for All Your Laser Hair Removal Needs
IGBeauty has over 25 years of experience in the health and wellness industry. They offer leading-edge laser hair removal technology along with a well-trained team of laser technicians. They provide safe and effective laser hair removal treatments for the face and body for men and women. IGBeauty provides two different machines that are catered to specific skin tones and hair colours.