Managing body hair can have a negative impact on our emotional and mental well-being. The presence of natural body hair is a common insecurity, along with other factors like acne and wrinkles. Say goodbye to body hair and your hair removal rituals with laser hair removal services. IGBeauty, our leading laser clinic in Toronto, provides a vast selection of laser hair removal services so you can target any area of your body. With a team of licensed professionals, we provide guidance and advice for any of your cosmetic needs to get you looking and feeling your best.
Learn how you can realize the many benefits of laser hair removal and get the confidence boost you deserve.
Permanent Hair Removal Results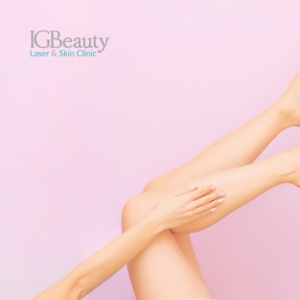 A significant factor that makes professional laser hair removal services so beneficial is that after the treatment is complete, it leaves you with permanent results. The lasers target the root of the hair follicle, so after the 5-7 treatments, the hairs are finer, appear lighter, or are gone completely. If you want to remove those finer hairs and prefer to avoid shaving or waxing, top-ups provide an alternative solution that leaves your skin smooth and free of hair. You are now ready for any occasion, like a beach day, without worrying about hair removal. It eliminates trips to the waxing salon or doing a whole-body shave the night before.
Razor Bumps Be-Gone
More often than not, shaving and waxing are not done correctly, and even when done correctly, many of us have encountered issues like razor burn, razor bumps, and ingrown hairs. With the irritation, we don't usually feel our absolute best and most comfortable in our skin. What if you never had to experience that discomfort ever again? Laser hair removal's only side effects include swelling and redness (comparable to a sunburn) that will subside in a few hours or days from the appointment. Remember that this is a small amount to pay for long-term gain. Unlike laser hair removal, shaving and waxing target the hairs at the skin's surface. Laser hair removal in Toronto eliminates the problem from the root for better results.
More Time to Focus on Other Things
Keeping up with at-home hair removal can often be time-consuming, as a shave typically lasts 2-5 days. That entails shaving once a week, which not everyone has time for. By switching to laser hair removal, appointments should be spaced out six to eight weeks apart Self-care is essential to keep you feeling confident, so spend the time you wasted shaving to do bigger and better things that can help you feel better, such as:
Booking a nail appointment
Getting your hair done
Going to the spa/ getting a facial
Enjoying time to yourself
Love the Way You Look with Laser Hair Removal
Here at IGBeauty, we provide laser hair removal for any area, men and women. As a leading provider of laser hair removal, our expertise and skills leave you with long-lasting results. We pride ourselves on our customer service and wide range of services.
Start your laser hair removal journey with IGBeauty.