One of the many viral skin trends and makeup looks that have become popular in recent years is the "glass skin trend." More than ever, many people, regardless of gender, want dewy, smooth skin that looks as if it's free of pores. However, achieving that beautiful finish is easier said than done at home. Pores are a natural part of your skin, and every person has them. While you can eliminate your pores for good, you can address some of the causes of larger-looking pores with treatments like microneedling in Toronto. At IGBeauty, we offer various services that will help you minimize the appearance of pores for a fresh, youthful look. To learn more about our facial treatments, book your consultation at our leading skin care clinic.
What Causes Changes in Pore Size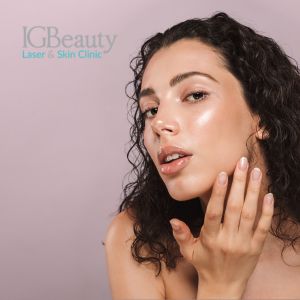 Before you can understand the best treatment for your skin texture, it helps uncover the underlying causes of large pores. When you visit a skin care clinic, our specialists will help you analyze the condition of your skin and make recommendations to guide you to the most effective treatment available. Changes in the appearance of pores can be caused by sun damage, aging, sebum, or oil build-up. You cannot change the size of your pores, but treatments such as chemical peels, photofacials, and microneedling in Toronto can target the factors that change how your pores appear.
Here are our leading skin care treatments to minimize the appearance of pores.
Microneedling Services
Microneedling is a popular treatment option that is designed to boost collagen production by creating microinjections to the skin, kick-starting the natural healing process. At IGBeauty, our specialists use the eDermaStamp from Dermaroller to help the skin produce more collagen and elasticity, making it especially effective for aging skin. Microneedling tightens and firms skin, ultimately reducing the appearance of pores.
IPL Photofacial
The IPL photofacial is a treatment available at skin care clinics in Toronto, such as IGBeauty, that offers a number of benefits. Of the many benefits of this treatment is acne reduction. The Intense Pulsed Light from the Lumenis IPL Photofacial eliminates acne-causing bacteria, which helps maintain healthy pores. At IGBeauty, our photofacial treatments last approximately 40 to 60 minutes, giving you a quick, discomfort-free, easy-to-maintain route to smaller-looking pores and healthier-feeling skin.
ResurFx Fractional Laser
The ResurFx Fractional laser is a multi-purpose tool that offers many benefits beyond just pore constriction. Designed to target atrophic and hypertrophic scars, this treatment allows for smoother skin and a reduction in pore size, using laser technology to improve collagen production and minimize acne symptoms. At IGBeauty, we recommend 3 to 4 sessions at our skin care clinic every 4 to 6 weeks to significantly rejuvenate your complexion.
Chemical Peels
Chemical peels are a tried and true skin care solution that offers numerous benefits, but it's vital that they be performed at an experienced skin care clinic. Using AHA (alpha hydroxy) and BHA (beta hydroxy) acids such as salicylic acid and glycolic acid, both of which are common in skin care products, to strategically eliminate acne-inducing bacteria from the surface of the skin and deeper in the skin. This skillful chemical exfoliation helps prevent damage to the pores, the onset of new acne, and protects the pores from stretching or appearing larger.
Explore Your Pore Treatment Options at IGBeauty
If your pores are making you love your skin less or giving you trouble with your makeup application, there are solutions at IGBeauty that are customizable. Our specialists will tailor treatment to your concerns and unique skin needs to maximize results.