Our bodies naturally age as time passes, showing visible changes like wrinkles, sagging, and creasing. This is due to the decline in the production of collagen in your body. We desire to look young forever; therefore, we look for any method to look "good for our age." At IGBeauty, many of our clients come in with these exact goals. They show interest in services like microneedling or anti-aging facials in Toronto to rid their skin of wrinkles and dark spots. Through our skin clinic in Toronto, we aim for patients to walk out with a new sense of confidence. Though these are the fastest ways to achieve the desired results, there are less invasive ways to improve collagen production.
Read on to learn more about collagen and how to boost the production of it.
What Does Collagen Do?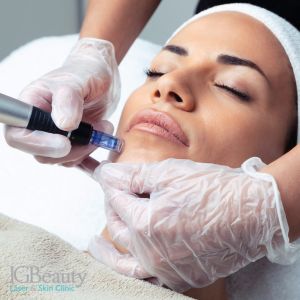 Collagen is a protein in your body that is in charge of skin elasticity. As we age, the rate at which collagen is produced in the body reduces. Collagen affects your body's natural healing processes, bones and muscles' health, and skin. Skin that produces more collagen appears younger, healthier, stronger, and more plump. As a result, many people concerned about aging skin, visit IGBeauty, a leading skin clinic in Toronto to explore treatments that help improve collagen production. At IGBeauty, we offer a number of options that can target your unique needs, such as microneedling and anti-aging facials in Toronto.
Skin Clinic Treatments & Facials that Boost Collagen
At IGBeauty, many of our services can help promote collagen production, which will reverse or minimize signs of aging to keep your skin feeling and looking youthful.
eDermaStamp Microneedling in Toronto
This is a form of microneedling where needles made of medical-grade stainless steel are carefully used to create minimally invasive micro incisions that penetrate the first layer of the skin. This treatment triggers the body's healing process to naturally stimulate collagen production in the target area. While there are products that can be bought in the store for at-home microneedling, it's always safest to schedule an appointment at a trusted skin clinic like IGBeauty for skilled microneedling in Toronto. This can help prevent mistakes or skin damage.
Chemical Peels
Chemical peels are a popular choice for those struggling with aging skin, pigmentation, and -prone skin. AHA and BHAs are used in safe concentrations for anti-aging in Toronto as a chemical exfoliant, essentially removing dead skin from the face. Because the process removes damaged surface layers of skin, it can improve your collagen in the treatment area to enable a radiant and youthful glow.
IPL Photofacial
In just 1-2 sessions at IGBeauty, the IPL photofacial starts to generate visible results. Using leading M22 by Lumenis IPL technology, the photofacial is designed to reduce the appearance of fine lines, wrinkles, and again by stimulating collagen and elastin in the skin. The result is fuller and younger skin. The IPL photofacial can also help with the appearance of pores, symptoms of , and discoloration in the skin, resulting in an overall enhanced complexion.
To learn more about our services, book a consultation with our professionals to see what service is best for you and your skin.
Feel and Look Younger with IGBeauty
If you want to learn more about boosting collagen and looking younger, consult the professionals at IGBeauty. Our services vary in intensity, from injectables to microneedling in Toronto. Contact us today to book an appointment or consultation at our clinic in Toronto.