Despite the popularity of laser hair removal in Toronto, many people hesitate to embrace the innovative technology for several reasons. Uncertainty about the process and its effects can often discourage some people from realizing its benefits, but it's usually the laser hair removal costs in Toronto that make people think twice. However, when you choose a high-quality laser clinic for laser hair removal for the face, chest, legs, or bikini region, you can save significantly compared to traditional hair removal methods.
IGBeauty is a leading laser clinic in Toronto, we offer high-quality laser hair removal services designed to provide long-lasting results. If you have questions or concerns about laser hair removal costs or treatment, talk to our specialists – we're happy to answer any and all of your laser questions.
Here's how laser hair removal costs compare to waxing.
The Cost of Waxing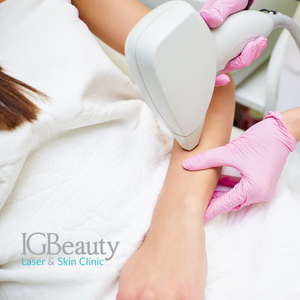 At first glance, waxing appears to have a lower price tag than laser hair removal. However, waxing requires monthly maintenance, so while you may think waxing is cheaper upfront, the cost of waxing quickly adds up. Waxing doesn't offer permanent results, unlike laser hair removal, so you'll need to continue to wax the desired area for as long as you want to maintain it. Laser hair removal costs may seem higher than waxing, but choosing laser hair removal in Toronto from IGBeauty is more cost-effective in the long run, saving you hundreds of dollars in recurring hair removal costs.
Other Drawbacks of Waxing
Despite its convenience, waxing has a few drawbacks. For one, it's not a permanent, long-term solution and requires monthly maintenance. Waxing is painful and may result in irreversible skin damage. If the wax is too hot or pulled at the wrong angle, it may result in increased sensitivity and long-term damage. Additionally, waxing increases the risk of ingrown hairs. Because the hair is pulled out in the opposite direction of the hair follicle, it affects its normal growth direction. Some hairs may not penetrate the surface of your skin, causing uncomfortable ingrown hairs.
Benefits of Laser Hair Removal Costs
Unlike waxing, laser hair removal is a long-term, almost painless hair removal method. The feeling of laser hair removal is similar to an elastic band snapping on your skin — which is a minor inconvenience. For those with extra sensitivity, cooling gel is applied to numb the area. Laser hair removal targets hair follicles, so hair won't grow back once the follicle has been damaged by the laser. Because laser hair removal permanently disables hair follicles, ingrown hairs won't be a problem anymore. Overall, laser hair removal for the face, chest, legs, or bikini area provides smooth, hairless results.
How to Maximize Laser Hair Removal Benefits
There are a few things to do to maximize the effects of each laser hair removal session. Leading up to your sessions, avoid tweezing or waxing, and shave the area instead. Shaving makes it easier for the laser to target your hair follicles. It's also imperative to avoid sun exposure; if you get sunburnt, you may miss a few treatments until your skin has healed. And finally, to reap the full benefits of laser hair removal, attend all your treatment sessions. Once you've completed your sessions, your skin will be smooth and hairless.
Why Choose IGBeauty for Laser Hair Removal in Toronto
IGBeauty is a trusted laser clinic in Toronto. Our advanced equipment and experienced specialists will make every session comfortable and satisfactory. Our team