The number of creams, ointments, and oils on the market offering to diminish the appearance of stretch marks are numerous, yet, their efficacy can often be questioned. Mesotherapy for hair loss treatments offer real results as the procedure injects high-quality active ingredients into the dermal and epidermal layer of the skin through a multitude of micro-injections. Although mesotherapy was first introduced to treat medical conditions, it became clear it could treat skin conditions at skin care clinics. Now practitioners use mesotherapy in Toronto for hair loss, fine lines, stretch marks, and more. IGBeauty is a well-established skin care clinic in Toronto that continues to evolve and learn to continuously offer the best and most advanced effective skin care treatments on the market.
Read on to learn more about how mesotherapy can minimize the appearance of stretch marks.
What Causes Stretch Marks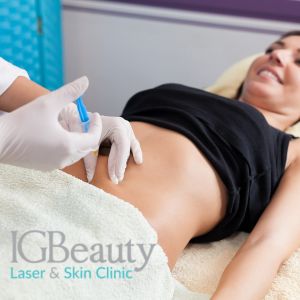 Stretch marks occur when the skin expands quickly or becomes stretched and causes disturbance to the collagen and elastin, which leaves indented marks on the body. Stretch marks can occur from weight gain or pregnancies and can appear on the stomach, legs, arms, or buttocks. While stretch marks are completely harmless and naturally occurring, they make people feel insecure and inclined to hide their skin. Treating stretch marks effectively with Mesotherapy in Toronto at our skin care clinic will help you feel like your best self in your skin.
What is Mesotherapy
Medical skin care clinics offer mesotherapy which helps to address the appearance of stretch marks by delivering high-grade quality ingredients into the dermal and epidermal layer of the skin through microinjections. Active ingredients are more effective as they are penetrated into the skin as opposed to just applied topically. At IGBeauty, we use the U225 Injector by Needle Concept, the most advanced injector on the market. It is painless and safe to use on sensitive areas and all over the body. The U225 Injector by Needle Concept also effectively addresses scars and stretch marks.
Mesotherapy is effective for various conditions. While many people will seek to use mesotherapy for the face to address signs of aging, the revolutionary treatment has many benefits and can be used to improve hair growth and more. At IGBeauty, we can provide a wide range of mesotherapy services at our Toronto skin clinic.
Mesotherapy Minimizes the Appearance of Stretch Marks
Mesotherapy effectively addresses stretch marks as it stimulates the production of collagen and elastin and helps to reduce the appearance of stretch marks. You will need a series of appointments to achieve the desired results, fading prominent and fresh scars. Our specialists at IGBeauty will help you plan your treatment, setting up a timeline to help you get the best results possible.
IGBeauty for Mesotherapy for Face, Hair, and Stretch Marks
IGBeauty is a leading skin care clinic in Toronto offering the most advanced treatments in skin care. We have over 10 years of experience and treat a wide range of clients using mesotherapy to address various issues. We are highly skilled at providing mesotherapy treatments and have seen great results.
We continue to invest in high-quality technology and training for our team so we always offer our clients the best of what's available in the skin care industry.