Are you tired of constantly waxing, shaving, sugaring, or epilating your unwanted pubic hair? After years of trying different hair removal methods without achieving lasting results, it's no surprise that many people find themselves fed up when hair inevitably grows back within days after your appointments. For a long-lasting, painless, and easy process, visiting a professional laser clinic in Toronto is the ideal solution to hair removal. Say goodbye to prickly and irritating pubic hairs, and say hello to Brazilian laser hair removal services at IGBeauty.
Read on to learn how long Brazilian laser hair removal lasts.
Stages of Hair Growth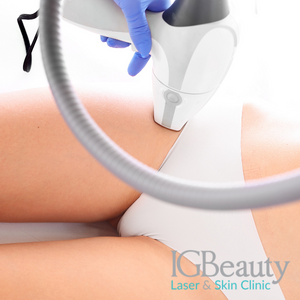 To find out how long it will take before your hair starts to grow back, knowing the stages of hair growth can help with understanding the growth pattern of your own hair. At any given time, your hair is going through all four phases of hair growth, including anagen (growing stage), catagen (transitional stage), telogen (resting stage), and exogen (shedding stage). Brazilian laser hair removal eliminates hairs at the root of the hair and below the skin, meaning it can only target the hairs in the anagen stage. At IGBeauty, our team of laser specialists can walk you through the process from start to finish, so you can feel confident and informed about your Brazilian laser hair removal.
How Long Does Brazilian Laser Hair Removal Last?
The question of how long laser hair removal lasts is based on the number of treatments, hair thickness, hair colour, skin colour, hormones, age, and growth stage of your hair. It's important to remember that your hair isn't always in the active growth phase, so multiple treatments are required for lasting results. Typically, 5 to 7 treatments, with 6 to 8 weeks between treatments, are necessary to achieve the best results. After the first appointment, most people notice 10 to 25 percent less hair that is also noticeably thinner. Once all Brazilian laser hair removal treatments are complete, it's common to not have regrowth for many years afterward. Over time, any hair that potentially grows back will be very sparse and delicate, which can be touched up by visiting your laser clinic in Toronto 1-2 times a year. At IGBeauty, we use top-of-the-line laser hair removal machines to effectively target and remove hairs in the anagen stage.
Tips to Make Laser Hair Removal Last
Choose a Qualified Specialist: A qualified specialist with years of experience is essential in receiving good-quality laser hair removal in Toronto. At IGBeauty, our Medical Doctors, Registered Nurse, Medical Estheticians, and Laser Technicians have decades of combined experience and are continuously educating our team on the newest techniques, products, and equipment.
Don't Wax Before Your Appointment: Although you need to shave 12-24 hours before your laser treatments, it's crucial to not wax for 4 weeks before your session, so the laser has hair follicles with pigment to target.
Professional Laser Hair Removal Treatments in Toronto
After years of purchasing hair removal methods and spending money on waxing or sugaring appointments that aren't permanent, it's time to treat yourself with laser hair removal.
For reliable, trustworthy, and cost-effective treatments, schedule your appointment with IGBeauty today!