Laser hair removal services and at-home IPL (intense pulsed light) have become popular alternatives for achieving long-term hair removal results. Choosing the right laser procedure can depend on the state of your body hair, budget, and lifestyle. Individuals not fond of laser hair removal prices in Toronto may opt for at-home regimens; however, there are downsides to DIY-ing this hair removal process.
For the best results, it is recommended to go through professional laser hair removal services for more efficiency, especially in hard-to-reach areas like facial or Brazilian laser hair removal. IGBeauty is a leading clinic in laser aesthetics and cosmetic services. We will get you feeling and looking your absolute best. Say goodbye to unwanted hair.
If you are still deciding which laser hair removal to choose, read on to learn more.
Professional Laser Hair Removal Services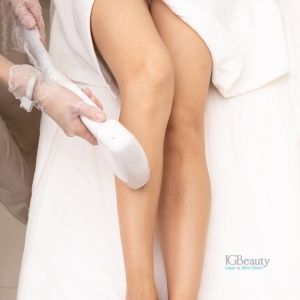 If you are looking for the best results, professional laser hair removal is the route for you. Professional technicians are trained to provide the best long-lasting results and the least amount of complication. You will have flawless results in 6-8 sessions, with minimal top-ups or maintenance required. Just like any other appointment, they should be booked at the appointment before, around 6 weeks apart. Professional laser hair removal can eliminate up to 90% of hairs. The newest and highest quality technology provides the best results at a clinic like IGBeauty. Also, when going to a clinic, professionals take the appropriate safety precautions to avoid any risk to your body or health.
At-Home IPL Devices
These at-home devices are small handheld machines that usually produce only a fraction of the light power a professional laser would. This means your sessions will be longer and more frequent, requiring top-ups every week. Though you can achieve some results, it does take longer to complete. This option is cheaper and more convenient for people who may not have time to go out to appointments or can't commit to the price of professional laser hair removal. It's crucial to stay on top of your top-ups as this is the only way to see long-term results. By the end of one year, you should see 50-80% of your hair gone. This method can be better for people with lighter hair; although it's less effective than the professional service, it won't be as noticeable.
Better for Sensitive Areas
When focusing laser hair removal in Toronto on sensitive areas or hard-to-reach areas like you would have to with laser hair removal for the back or Brazilian treatments. Sessions with a professional at a reputable laser clinic in Toronto is always recommended. We have the tools and experienced to ensure that process is as smooth as possible and results meet your expectations.
Laser Hair Removal With IGBeauty
We recommend undergoing professional laser hair removal at IGBeauty, especially if you have darker hair, as you will see more effective long-term results. Our clinic takes extra precautions to ensure you are comfortable during and after your appointment. We provide services for men and women for any area of the body. Say goodbye to razors, wax and tweezers, and choose laser hair removal. Book a consultation today to talk to one of our professionals.