"Strawberry legs" is not a condition in itself. Instead, the term "strawberry legs" refers to the appearance of the legs where there are darker spots throughout the skin that look similar to the seeds of a strawberry. Many people notice that after laser hair removal in Toronto, the appearance of these spots fades, leaving the skin's texture smoother and more even. If you're not happy with the way your legs look because of this strawberry-like texture and are looking for permanent hair removal solutions in the city, then a visit to IGBeauty, one of the best laser clinics in Toronto, can be incredibly fruitful.
Here's what you need to know about laser hair removal and strawberry legs in Toronto.
What Causes Strawberry Legs?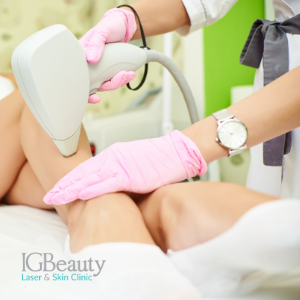 The dark-spotted pattern in your legs is essentially the appearance of hair follicles and pores. While for some people, this problem can simply be a pigmentation or melanin issue, for others, it is made more prominent as a result of pores and follicles clogged by dirt, oil, and bacteria. When the pores of the skin clog and close, they form blackheads or "comedones" that are the result of the oils and oxygen mixing. While strawberry legs are not a serious problem or health concern, they can cause insecurities leaving many people insecure and afraid of baring their skin. Fortunately, laser hair removal in Toronto provides a two-in-one solution, eliminating unwanted hair and erasing signs of strawberry skin.
What is Laser Hair Removal?
Due to its recent popularity at laser clinics in Toronto, laser hair removal is well-understood as a viable and effective permanent hair removal solution – but how does it work? At IGBeauty, we use the top-tier LightSheer Duet or the GentleMax Pro hair removal technology, which selectively targets dark melanin in hair follicles, sending concentrated light energy that kills the follicle without causing damage to the surrounding skin. As a result, hair growth is slowed and eventually stopped entirely.
How Does Laser Help Strawberry Skin?
As a result of targeted and essentially removing unwanted hair follicles, laser hair removal in Toronto has many incidental benefits that clear skin congestion and improve complexion in the treatment area. Besides firming the skin for a more youthful look and feel, as a result of minimizing hair growth, the opportunity for ingrown hairs and related inflammation is controlled too. When this laser treatment is done professionally at a laser clinic in Toronto, many people also report that pores appear smaller and the unwanted pigmentation around the skin, like the dark spots or raised bumps that cause strawberry legs, also disappear. As a result, this improves the texture of the skin while also enhancing feelings of confidence in your appearance.
Choosing a Laser Clinic in Toronto
To get the best results from your laser hair removal treatment in Toronto, visit a laser clinic you trust. At IGBeauty, we always use the most advanced, reliable, and tested technology for all of our skincare and laser services. We leverage refined techniques and continue to learn about evolving technologies, treatments, and practices to ensure we are consistently delivering the best to our clients.
Are you interested in laser hair removal in Toronto or have a skincare concern that you want to address with professional solutions?