Ahead of your vacation, there are many things to take care of before you hop on a plane and take off to your desired destination. Remembering to shave or wax can completely slip your mind between getting your hair down, nail appointments, and packing your favourite outfits. Many men and women schedule laser hair removal in Toronto weeks to months in advance so they'll show up and leave their vacation with silky, smooth, and hair-free skin. Brazilian laser hair removal is a great way to effectively remove unwanted hair, especially if you're going to a destination where you'll be wearing your bathing suit for most of the trip. At IGBeauty, we can get you vacation ready in no time with outstanding laser hair removal services in the Greater Toronto Area.
Continue reading to learn how laser hair removal can get you vacation ready.
Makes Planning Easier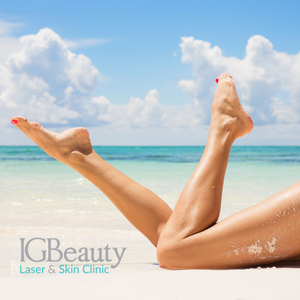 Instead of having to remember to shave every inch of your body the night before your vacation and throughout your trip, with laser hair removal in Toronto, you can easily plan your holiday, knowing that your unwanted hair is already removed and won't be growing back anytime soon. With Brazilian laser hair removal services, you can arrive at your vacation feeling more confident than ever. At IGBeauty, our specialists offer detailed pre-care and post-care instructions so you can get the best results possible while caring for your skin.
Long-Lasting Results
With high-quality laser technology, long-lasting results are guaranteed. Forget painful waxing appointments and prickly skin from shaving. Laser hair removal in Toronto offers the lasting hair-free results you deserve! If you're committed to a certain amount of treatments, you can look forward to minimal to no hair growth and if so, the hairs will be finer and less visible. Stop worrying about shaving your armpits, pubic area, or face every day on vacation and schedule laser hair removal services with the experts at IGBeauty.
Your Skin Will Be Healed
Before your long-awaited getaway, there are lots to prepare for, so it's essential to have your facial, body, and Brazilian laser hair removal services booked in advance. By scheduling your laser hair removal services weeks to months in advance, you'll be more than ready for your vacation. When it's time for your trip, your skin can be healed and ready to face the sun, water, and heat. For your upcoming vacation, don't forget to book laser hair removal services with the professionals at IGBeauty.
Professional Laser Hair Removal in Toronto
If you're considering booking laser hair removal services, you'll want a reliable, trustworthy, and highly-reviewed skin and laser clinic in Toronto. At IGBeauty, our team has decades of first-hand experience with laser hair removal, so you can feel safe and confident about your treatments. With state-of-the-art laser machines, products, and equipment, our specialists are able to provide you with gentle yet effective hair removal services, with results visible after the first treatment.
Are you ready to have silky, smooth, and hairless skin for your vacation?