Whether you struggle with acne, fine lines, or wrinkles, it's common to want your skin to look rejuvenated. After trial and error with facials, medications, and skincare products, it can become exhausting trying to achieve youthful, plump, and glowing skin. With high-end laser facials in Toronto that target skin damage and insecurities, you can reach your desired facial goals in no time. At IGBeauty's laser and skin care clinic, we offer various skin care treatments that can transform your skin, including the Lumenis® Photofractional™.
Continue reading to learn how laser facials in Toronto can transform your skin.
What is The Lumenis® Photofractional™?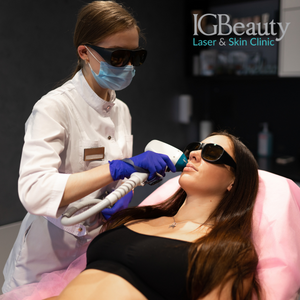 The Lumenis® Photofractional™ treatment offers an effective laser treatment that works with your skin to revive deep collagen regeneration over a few treatment sessions. The Lumenis® Photofractional™ offers remarkable results on various skin types with different concerns, including age, vascular lesions, sun spots, uneven texture, hyperpigmentation, and more. The Lumenis® Photofractional™ is a revolutionary treatment that incorporates two state-of-the-art technologies: ResurFX™ and Intense Pulsed Light (IPL).
The treatment has proven to be an excellent option for treating the following skin conditions:
Acne scars
Broken facial capillaries
Scars from injuries or surgery
Wrinkles & fine lines
Uneven skin tone
Skin that has lost its elasticity or collagen
Dull or "lifeless" skin
And much more!
How Do Intense Pulsed Light & ResurFX™ Work Together?
The Lumenis® Photofractional™ combines two top-of-the-line laser treatments and stimulates collagen revitalization that effectively restores your skin - making it appear more youthful, radiant, even-toned, and plump. By combining Intense Pulsed Light and ResurFX™, you can treat hyperpigmentation and skin texture at the same time without discomfort or pain The Lumenis® IPL technology removes undesired pigmentation and blood vessels from the skin, whereas the ResurFX™ offers a non-ablative skin resurfacing treatment that stimulates the production of collagen, skin fibre, and elastic fibres into the deeper layers of your skin.
When Will I See the Results?
Typically, 3 to 5 sessions with 4 to 6 week intervals are recommended by our laser specialists to see visible results. However, results can sometimes be noticeable after the very first session. Depending on your skin concern, the session will likely last around 60-90 minutes. To ensure the utmost comfort, numbing cream will be applied before or during the treatment to make the process as seamless as possible. The professionals at IGBeauty's laser and skin care clinic provide knowledgeable and gentle care to all clients, making treatments with little to no discomfort.
Expert Laser Facials in Toronto
At IGBeauty, we have years of experience and expertise that sets us apart from the competition. Our team of professionals constantly learns and tries the newest techniques, technologies, and products to ensure the best results possible.
If you've been struggling to achieve rejuvenated, smooth-looking skin, the experts at IGBeauty are here to help you reach your desired goals. After only a few treatments, you'll begin to see a noticeable change in your appearance and confidence.
Want to start feeling better in your skin? Contact IGBeauty to see if the Lumenis® Photofractional™ is right for you.