We're always working on our complexion, whether it be to brighten, tighten, or reduce acne. The way our skin looks and feels, plays a significant role in self-esteem. Unfortunately, acne, which is incredibly common, often causes stubborn acne scars that can diminish self-confidence and increase insecurity. However, laser treatments for acne scars will help you combat scarring and boost your confidence. Not only does this laser treatment eliminate acne scars, but it improves your skin's texture and overall appearance. To minimize acne scars and rejuvenate your complexion, visit IGBeauty, your trusted skin care clinic in Toronto.
Here's a guide on the best treatment for acne scars.
What Causes Acne Scars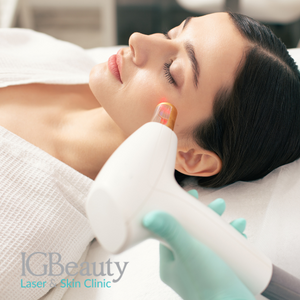 Acne scars are primarily caused by picking, squeezing, or popping acne, especially if it's inflammatory or cystic acne. Inflammatory acne is often swollen, red, and painful and penetrates deep into the skin, resulting in severe damage to your skin. If you were to pick at inflammatory acne, it might provide temporary relief, but you will be left with acne scars.
Treatments for Acne Scars
At IGBeauty, a few options are available to help minimize or remove acne scars, such as microneedling, chemical peels, and laser acne scar treatments. Microneedling includes tiny pricks in the skin, which helps produce new skin cells, making it an excellent treatment for acne scar removal. Similarly, exfoliating chemical peels help minimize hyperpigmentation and acne scars. Chemical peels eliminate dead skin cells and stimulate new skin cells, which helps aid in acne scar reduction. Finally, laser acne scar removal is a method where beams of light target and destroy acne bacteria in the skin, reducing scarring and future acne breakouts.
What is Laser Acne Scar Removal?
Laser acne scar removal from your trusted skin care clinic, like IGBeauty, is a fantastic and effective way to remove acne scarring and reduce skin inflammation.
The technology behind laser acne scar removal, Lumenis IPL, uses beams of light to kill bacteria in the skin that removes skin pigmentation and unwanted blood vessels — the root behind unwanted acne scarring. Aside from reducing hyperpigmentation, Lumenis IPL technology helps boost collagen production and new skin cells, which will help reduce scarring, minimize pores, and improve skin texture.
The M22 ResurFX fractional laser works in conjunction with Lumenis IPL to resurface skin, reducing the appearance of atrophic and hypertrophic acne scars, while also minimizing the size of pores for smoother, healthier, and more radiant skin.
What Results to Expect
For best results, our specialists at IGBeauty recommend four to six sessions at four-week intervals. However, the number of sessions, as well as the length, depend on the severity of the scarring. Once your sessions are completed, your skin will appear smooth, bright, and clear. Laser acne scar removal eliminates scarring and reduces the risk of future acne breakouts, especially if it's inflammatory. Following each of your appointments, taking care of your skin is essential, so you should be mindful of direct sunlight, stay moisturized, and wear sunscreen all the time.
Why Get Started With IGBeauty
IGBeauty is a trusted and experienced skin care clinic in Toronto, providing a wide variety of services to help you feel your best. If you're interested in acne scar removal, visit IGBeauty to learn more.