Now that you have committed yourself to a laser hair removal regime, you have likely noticed that there are enormous benefits to reap with minimal potential for negative side effects. While laser hair removal services are safe and highly effective, following the pre and post-care instructions is important to get the best results. In particular, making sure to shave before your treatment is essential for an effective treatment and your safety. IGBeauty is a skin care clinic in Toronto that offers laser hair removal services using advanced technology with highly skilled technicians.
Read on for your guide to shaving before laser hair removal.
Never Shave Same Day as Appointment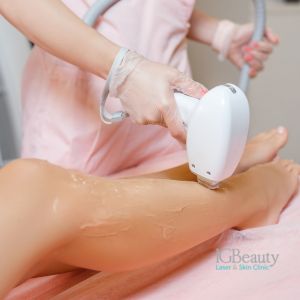 When you first book your laser hair removal treatment, the technician will advise you to shave prior to the appointment. It is recommended to shave 24 hours before your treatment and never on the same day you receive laser hair removal services. It is considered dangerous to shave right before a laser hair removal treatment as your skin is a little sensitive after a shave. Depending on the pressure applied while shaving, you may lift a layer of skin during a shave and so must give your skin some time to recover.
Why It is Important to Shave Before Laser Hair Removal
Shaving is essential before your laser hair removal so that the hair above the skin doesn't absorb the energy intended to destroy the hair follicle. So for the best results, always shave 24 hours before your appointment to ensure the most effective treatment is performed.
Having your hair shaved on the area to be lasered will also prevent the potential of hyperpigmentation or burns on the skin.
Stubble has the potential to damage some laser machines as well. So ensure your skin is cleanly shaved, shaving ensures a safe and effective treatment.
Avoid Shaving Post Laser Hair Removal Services
The skin care clinic will advise you to avoid shaving for at least 3 to 4 days after your laser hair removal treatment. Always remain mindful that the skin is healing after laser hair removal, so you must follow the post-care guidelines to give the skin the time it needs to properly heal. Avoid exposing the area to sunlight or tanning beds for 2 to 4 weeks, and no creams or perfumes on the area for 48 hours.
In general, avoid waxing and tweezing the hair on the treated areas between laser hair removal appointments.
IGBeauty Is A Premier Toronto Skin Care Clinic
IGBeauty has been a leader in the skin care industry for over 12 years. We specialize in laser hair removal all over the face and body for men and women. Our laser technicians are highly trained and certified and committed to learning more about the industry's advancements. We offer a diverse range of laser technologies to effectively treat the diversity in our clientele. We provide Nd:YAG 1065nm laser treatments for darker skin tones, Alexandrite 755 mn, and Lumenis LightSheer Duet with Diode 810 nm.