Spring break marks a time for vacations to tropical locations and beach destinations. With spring and summer fast approaching, it's a good time to schedule laser hair removal, especially for the bikini area. If you'd like to achieve the best laser hair removal in Toronto, visit IGBeauty. Before you jet off for your spring break vacation, make sure you're prepared and ready for the beach with bikini laser hair removal.
If you're curious about Brazilian and bikini laser hair removal, keep reading.
Why Choose Bikini Laser Hair Removal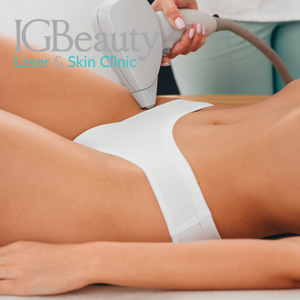 It can be tricky when it comes to hair removal methods for the bikini area. The area is sensitive, so shaving and waxing are often met with irritation or pain. However, with laser treatments at IGbeauty, the procedure is virtually painless, and there's little to no skin irritation following each session. Unlike shaving or waxing, bikini laser hair removal also offers semi-permanent results; just after the first session, you'll notice a significant decrease in hair growth. Once all your sessions are complete, your skin will be smooth, and you'll get rid of unwanted hair.
Brazilian Laser Machines for Hair Removal
At IGBeauty, we guarantee the best laser hair removal in Toronto by having innovative and advanced technology. Candela's GentleMax Pro is an excellent tool for efficiently and safely removing all hair types from the body. The Lumenis LightSheer DUET is a fantastic technology available at IGBeauty that prevents damage to any surrounding skin, making it a great choice for sensitive skin.
What to Expect from Bikini Laser Hair Removal
Immediately following each laser hair removal session, you may experience some tenderness or sensitivity in the affected area — but don't worry, it's completely normal and should subside in a few hours. In the meantime, you can put some aloe vera on the area to keep it cool and hydrated. In addition, it's important to note that to achieve smooth and harmless results, you must attend at least six bikini laser hair removal sessions. Because of the way our hair growth cycle is, only 20% of body hair can be targeted by the laser and damaged to the point of no regrowth. While six sessions at six to eight weeks apart may seem like a long time, it's worth it.
How to Prepare for Bikini Laser Hair Removal
Before you start your laser hair removal journey, there are a few different ways to prepare. For the weeks leading up to your appointment, you must stay out of direct sunlight, as this will increase the sensitivity to the area. In the few days before your laser hair removal session, use gentle, fragrance-free cleansers, and avoid alcohol, NSAIDs, and fragrances. When you visit IGBeauty for your appointments, wear loose clothing, like linen or cotton pants.
Choose IGBeauty for Brazilian & Bikini Laser Hair Removal
At IGBeauty, we use the latest technology to ensure you have a comfortable experience and are delighted with the results. Our experienced specialists will walk you through any questions about Brazilian and bikini laser hair removal.