Acne impacts the lives of millions of people each and every day, causing depression, anxiety, low self-esteem, and loss of confidence. The debate on what causes acne remains, and in the meantime, many of us are struggling with acne while fighting for clear skin. For this reason, we've decided to collect advice, tips and tricks from skin experts who reveal how to get rid of acne for good. We recommend following this guide to target the best acne treatment for you.
How to Get Rid of Acne?
Acne.org
Acne.org, also known as "the world's most trusted acne website" is the number one online source for all things acne. Here, you will find reliable information on how to get rid of acne based on scientific opinions and results, along with acne product reviews, treatment options and an overal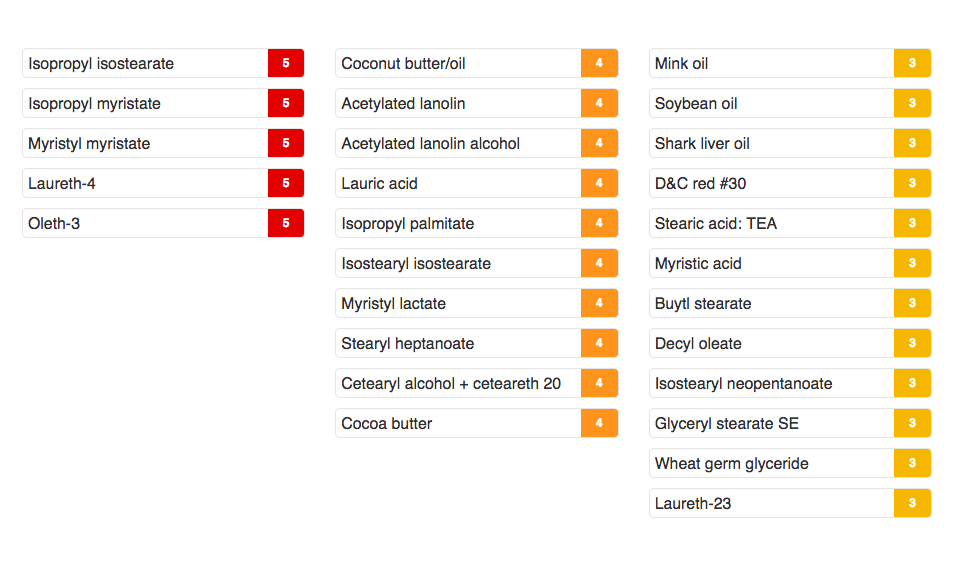 l helpful community.
Acne Treatment Tip: Make sure to watch out for any ingredients in your skincare products, including makeup, that are most likely clogging your pores and encouraging bacteria build-up. To eliminate pimples on your face, avoid any facial products that contain the following ingredients.
*Please note, the products are listed with corresponding numbers, the higher the number - the more likely the ingredient will cause breakouts. If any of the following ingredients are listed past the 7th ingredient under your product's ingredients list, this indicates only a small amount of it has been used in the product. Thus, decreasing the likelihood for it to cause acne. To achieve clear skin, don't be lazy and check your skincare products' ingredients list. See the list here.
Supermodel Kendall Jenner
Kendall Jenner is a 22 year old supermodel and television personality, religiously walking the runways of high fashion designers such as Chanel, Hermès, Balmain, Victoria Secret, and many more. Jenner has previously spoken about her acne issues, which are often quite visible - even at red carpet events. From the very start of her modeling career, Jenner has struggled with stubborn adult acne in front of the public eye.
Kendall Jenner's Advice on Acne: Even though her acne is frustrating, Jenner says to never abrasively wash your face; don't over scrub, overly-cleanse, or use any rotating face brushes. Her dermatologist has explained to her that you don't want to irritate your skin even more, since it is already irritated from inflamed acne. Instead, gently wash your face and pat dry with paper towel, because towels tend to have a build-up of bacteria. When it comes to her acne regimen, Jenner is a huge fan of Laser Genesis, which has improved her acne, skin tone and texture.
Dr. John Fox Leading Dermatologist
Dr. Fox is an advocate Medical Group dermotologist at Illinois Masonic Medical Center and an experienced professional in the skincare field. Along with many other doctors, he believes that diet is a cause of acne in certain individuals.
Dr. Fox on what causes acne: Your diet does matter. While there haven't been enough studies to prove a direct correlation between one's diet and their acne, thousands of people have claimed their skin does worsen following certain diet decisions. Many people online have claimed that dairy and large intake of sugar causes acne. In addition, thousands of people including skin experts have concluded that drinking at least 4 bottles of water a day clears one's skin of redness, acne, pimples, and blemishes. If you don't enjoy regular water, opting for homemade detox water is always a healthy and flavourful option. Aside from your diet, try to make the best lifestyle choices such as getting enough sleep every night and exercising regularly to clear any toxin build up in your body.
If you have tried changing your diet and it hasn't helped cure your acne, be sure to visit your local dermatologist. You may want to try topical creams or even oral medication such as antibiotics.
Don't forget that 80% of the world's population suffers from acne from the ages of 11 to approximately 30. Some people even suffer from adult acne way into their mid 30s and early 40s. If you want to know how to get rid of acne for good, we hope this article inspired you to treat your acne in the most proper and effective way. To help you better understand the cause of your acne and to determine which action is best to take, be sure to check out the acne face map (outer link).
Sadie Victoria Masters:
Sadie Victoria is a successful health and wellness blogger in Ontario. She tarted her blog to inspire others to engage in self-care and embrace their natural beauty.
Sadie on what causes acne: "Unhealthy habits = unhealthy skin".I've always had little breakouts since high school, but I noticed it getting worse during first year university. That was went my eating habits and self-care was put on the back burner. The breakouts where mostly on my forehead and on my back. I tried using different exfoliants and cleansers to clear it. I found nothing was working. I started to change my eating habits and adapted a more natural food and products based lifestyle. I stopped using store bought facial products and stuck to household products. Eating healthy along with making natural face masks, cleaners, toners is what I believe to have cleared my acne.
Melissa from Can You Carry My Bags:
Melissa is a successful Youtuber, blogger and entrepreneur based in Toronto, Canada.
Her acne treatment advice: "I had mild acne for years, like hormonal breakouts during university. I switched to organic all natural products and tried to deal with stress better. I also visited a naturopath and stopped eating a lot of gluten and dairy and started taking supplements. Now my skin is really good!"
IGBeauty Studio: Toronto's Leading Clinic in Cosmetology & Laser Aesthetics
As a premium cosmetology and laser clinic in Toronto, IGBeauty is a skincare studio that is highly dedicated to providing effective, therapeutic, and clinically proven aesthetic enhancements. IGBeauty is a trusted skincare clinic that has proven itself through many happy clients and real results that last. At IGBeauty, staff is certified and highly experienced in medical and laser aesthetics.
Industry Expert Tip on Treating Acne: Don't underestimate the value of seeing a professional. Too many times patients desperately come into our clinic after trying to solve their acne issues on their own. If you want to know how to get rid of acne for good, you shouldn't have to use your face as a scientific experiment. Avoid having to wait months to clear your acne by trying to do it yourself. Trust a professional to examine your skin and determine which treatment is best suited for your acne type.
When it comes to effective acne treatments, we recommend consulting your chosen professional about facials, the Jet Peel treatment, ozone therapy, blue light therapy, galvanic therapy or laser acne scar treatments. Whether you have severe acne, cystic acne, seborrhoeic skin, blemishes, clogged pores, or overall skin congestion, these treatments have been proven to show real results that last.