Laser hair removal in Toronto has become the solution for individuals seeking to eliminate unwanted body hair on various body parts. While this treatment is generally safe and effective, especially when performed by an experienced professional at a notable laser clinic in Toronto, many people wonder if it can be performed on sensitive areas. Sensitive areas, like the bikini line, underarms, and face, require extra attention and care during laser hair removal. To get a better understanding of laser hair removal and laser hair removal cost, schedule a consultation with IGBeauty.
Here's what you should know about laser hair removal on sensitive areas.
Understanding Laser Hair Removal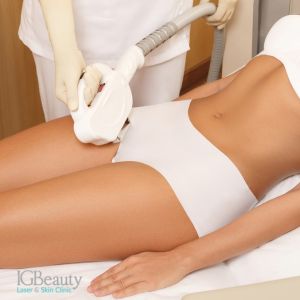 Laser hair removal uses a heat laser to target and damage hair follicles. By damaging the hair follicle, it prevents any hair from growing back. The laser doesn't come into contact with the skin, so there's no pain, scarring, or burning to worry about. At IGBeauty, we use advanced technology, such as the Lumenis LightSheer DUET and the Candela GentleMax PRO. The Lumenis LightSheer DUET has two different size lasers to target smaller areas, such as the face or underarms. It also reduces sensitivity and any potential discomfort by using cooling technology. The Candela GentleMax PRO is also excellent for small treatment areas and can treat light hairs on light skin or dark hairs on dark skin.
Sensitive Areas for Laser Hair Removal
Laser hair removal is commonly used for the arms or legs; some people are concerned about sensitivity in areas like the underarms, bikini region, and face. However, at IGBeauty, there's no reason to be concerned — we ensure that your experience is comfortable and effective. The bikini and underarm regions are sensitive because there's an increased risk of inflammation due to sweat and chafing. For safe and effective facial or Brazilian laser hair removal in Toronto, book a consultation at IGBeauty.
Laser Hair Removal Considerations
Laser hair removal cost is entirely dependent on the area you want hair removed, so that is something to consider. In addition, you need to consider the timeline of the laser hair removal process — for best results, it often requires six to eight sessions. While laser hair removal in Toronto doesn't come with serious risks, you may experience sensitivity or redness, but with leading technology and experienced technicians you can mitigate those side effects significantly. For expert care and guidance tailored to your skin, book a consultation with the team at IGBeauty.
Laser Preparation and Aftercare
To prepare for your laser hair removal session, there are a couple of ways to prepare for it. For one, stay out of the sun, especially if you plan on getting hair removed from your face. For best results and to decrease irritation, shave the area beforehand. Using gentle cleansers and avoiding fragrances is also critical to reduce sensitivity. Aftercare is similar to how you'd prepare for your session. Following your appointments, continue to stay out of the sun and keep refraining from fragrance and using exfoliants.
Choose the Top Laser Clinic Near You
When you're looking for where to go for laser hair removal, choose a laser clinic in Toronto that specializes in sensitive skin and laser hair removal. When you schedule a consultation at IGBeauty, our specialists will address any concerns you may have, like sensitive skin, and select the right laser to ensure the treatment is done properly.