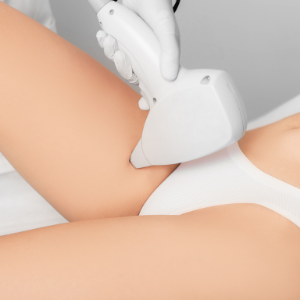 When it comes to removing hair permanently, laser hair removal in Toronto has consistently come up on top because it's an efficient and effective procedure. But what many people don't know is that laser hair removal can be used on any area of the body, including for Brazillian and bikini hair removal. With a Brazillian laser hair removal, you will be hair-free within just 6-8 sessions with each session consisting of 15-20 minutes. In comparison, when it comes to shaving, you may have to shave 2-3 times per week with each shaving session taking up to 20 minutes. Want to know more about what's involved with a Brazillian Laser Hair Removal Treatment? You've come to the right place.
What is Brazillian Laser Hair Removal?
Laser hair removal is the process of using a laser to target the hair follicles in order to remove hair permanently. Because hair follicles are how your hair grows on the body, using a laser to target the hair at the root is what gives you smooth and hair-free skin. Just like any hair removal treatment, it can be done on any part of the body including the Brazillian area. Laser hair removal sessions can take anywhere from 15-30 minutes depending on the area and the amount of hair. The good news is that you only have to attend a session every 6-8 weeks for optimal results.
How Does Brazillian Laser Hair Removal Work?
Here at IGBeauty, we use FDA and Health Canada approved laser technology that is safe and pain-free. Like any laser treatment, the laser emits a direct light onto the hair follicle in short pulses altering the hair follicle. The goal is that laser technology will essentially cause the root of the hair to fall out making it unable to produce new hair in its place.
How Many Sessions Will I Need?
Depending on you, your body and your hair, the required number of sessions may vary. That's because everyone's hair differs in colour, thickness, amount and how quickly it grows. After your first session, we will be able to determine an exact treatment plan tailored specifically to you and your hair growth. Your specific hair-goals may also determine the number of treatments required. If you're looking to completely rid of hair permanently, it may require 6 or more sessions, whereas if you're just trying to significantly reduce hair growth you may only require 6 or less. Again, it all depends on your personal preference.
Brazillian Laser Hair Removal With IGBeauty
At IGBeauty our educated and well-trained technicians are ready and able to provide you with the best Brazillian laser hair removal in Toronto. With our experience, we can ensure you will get the results you're looking for. Whether you want to remove hair in one area of the body, or multiple areas, we have many different packages to choose from that will suit your needs. So what are you waiting for? Book your laser hair removal in Toronto today by visiting our website or giving us a call at 416-484-4884.